These Days, The Great Lakes Aren't So Great
Low water levels hurt shippers and manufacturers and create inflationary pressure
Joann Muller
First it was rising fuel prices. Now Mother Nature is threatening to drive up costs for industries in the Gread Lakes region. Water levels in the lakes are at their lowest levels in 35 years, causing headaches for shipping companies, manufacturers, and other industries that depend on the lakes for transportation or power.
The impact is widespread. Giant cargo ships must lighten their loads to avoid running aground. And with their supply lines pinched, steel manufacturers and coal-burning power plants have to dip into their stocks of iron ore, coal, and other raw materials. The low water is lifting power prices, too. Less water means hydropower plants can't generate as much electricity, and producers are increasing prices where possible.
So far, the drought is more of a costly inconvenience than a full-blown crisis. But economists who study the Great Lakes region say it adds to inflationary pressure. "It's just one more factor out there enhancing upward pressure on costs, and we don't need any more of that," says Diane C. Swonk, vice-president and senior regional economist at Bank One Corp.
Water levels in the middle Great Lakes--Michigan, Huron, and Erie, along with the smaller connecting Lake St. Clair--are as much as three-and-a-half feet lower than their recent high, in the summer of 1997. The depths of the Great Lakes--the world's largest freshwater system--have been fluctuating for thousands of years. But the sharp drop in just three years is making people take notice. It's the fastest decline in nearly a century and a half.
Blame the recent mild winters. Normally, water levels in the Great Lakes drop during the winter, when snow and ice block rivers and streams in northern Michigan, Wisconsin, Minnesota, and Ontario. Then the lakes welcome cargo ships with rising water from melting snow and ice. The past few winters, however, have been relatively warm and dry. "Conditions will be worsening throughout the year. It is so dry out there right now that we can guarantee the lakes will be almost 15 inches lower than last summer," says Roger Gauthier, senior hydrologist at the U.S. Army Corps of Engineers' Detroit district.
For shoreline property owners, that means wider beaches. But even that's a mixed blessing, notes Gauthier. Without the normal water pressure holding them up, seawalls are buckling and collapsing, requiring expensive repairs. Also threatened are freshly exposed wood pilings under many docks. Long-submerged sections are prone to rot when exposed to air. Indeed, the receding waters have begun to reveal long-lost lakeside relics. In March, William Rossberger, a Chicago Maritime Society officer, noticed that the moorings of a late-19th-century pier had emerged at a Chicago city beach.
Marinas and recreational boat owners aren't happy, either. Sales of pleasure craft have been strong in recent years, but now many boaters are finding the lakes inaccessible: Canals are too shallow, launching ramps fall short of the water's edge, and many boat slips are simply off-limits. Dredging companies are having a field day.
The news is worse at hydroelectric power plants such as Edison Sault Electric Co., where low water means less power. Donald Sawruk, the company's president, expects that output at the Sault Ste. Marie (Mich.) plant will be down by 10% in 2000. Worse, as the waters ebb and electric output shrinks, Sawruk is forced to buy power from other generators to supply customers who hold long-term, fixed-price contracts. Typically, such third-party power comes at 3.5 cents per kilowatt hour, a markup of 30% or more over his production price.
Customers with variable pricing contracts, however, will share Sawruk's pain, in the form of higher prices. "The water level is the biggest single factor that affects the purchase price to our customers," he says.
OTHER VICTIMS. Also hard hit are industries whose business depends on the Great Lakes. Shipping companies, whose massive, 1,000-foot freighters carry iron ore, coal, and limestone to Midwestern factories, have been suffering the most. Instead of loading the usual 70,000 tons of cargo per trip, they're pulling away from the docks with barely 60,000 tons to lessen the chance of running aground in channels and ports. Among the most commonly used freighters, loads are off 5% to 11% from their 1997 peaks.
At $35 a ton for coal and iron ore, that adds up. "If you're leaving 9,000 tons on the dock, you're losing $315,000 worth of cargo," says Glen Nekvasil, spokesman for the Lake Carriers Assn., an organization of shipping companies in Cleveland. "That's not good for a company's bottom line."
Just ask Stuart H. Theis, president of Cleveland's Oglebay Norton Marine Services, the shipping unit of Oglebay Norton Co. "Our profit levels are definitely being affected," says Theis. Although it's still early in the shipping season, Theis says the lost productivity means profits are likely to fall for the second year in a row.
Shipping companies can try to compensate for lighter loads with more trips. But even that option is limited by the length of the shipping season. Federal law dictates that the Soo Locks connecting Lake Superior to the lower lakes be closed for about two months in late winter. Once the season opens, the freighters can't go any faster.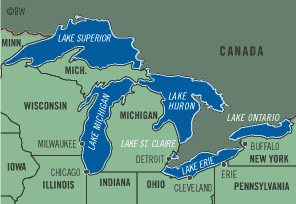 Most shipping companies have to swallow the extra cost, rather than pass it on to their customers. But users of raw materials still feel the impact. A big coal-burning power plant on the lakes, for instance, burns about 22,000 tons of coal a day. "When you leave 9,000 tons of coal on the dock, that's nearly half a day's supply for that facility," says Nekvasil.
Because the Great Lakes shipping season is only 10 months long, steel manufacturers and utilities regularly stockpile their raw materials for the winter months. "Nobody's in a situation where they'll run out of coal or iron ore," says Nekvasil. Unless the Great Lakes continue to dry up, that is.
Before it's here, it's on the Bloomberg Terminal.
LEARN MORE