The Great Mexican Bank Sale
Weak banks are easy pickings for foreigners and locals
Elisabeth Malkin
The Mexican government has spent $100 billion in taxpayer money to bail out the country's banks. But five years after the near-death experience that was the peso crash, Mexican banks are still undercapitalized and ripe for takeovers. On May 3, the country's top banking group, Grupo Financiero Banamex Accival, made a surprise bid to merge with the No. 2 bank, Grupo Financiero Bancomer. Meanwhile, Banca Serfin, a failed but venerable institution that ranks as the country's third-largest bank, is on the block.
The mergers and sales may finally give Mexico a banking system that works. Of the 18 banks that the government privatized in 1991 and 1992, only four are still going concerns. The Banamex bid sets the stage for a battle with Spain's Banca Bilbao Vizcaya Argentaria (BBVA), which had negotiated a deal to acquire Bancomer in March. When the dust clears, just three local banks will be left to square off against a clutch of foreign banks eager to stake a claim in a promising market.
If Banamex prevails in the fight for Bancomer, the two will merge to become the biggest financial group in Latin America, with assets of $60 billion and 11 million customers. In Mexico, the banks would have a whopping 40% market share. "It will be viewed as good for Mexico because it assures one large financially unassailable institution," says Philip Guarco, Latin bank analyst at Moody's Investor Service in New York.
Banamex' proposal envisages a stock swap and a $2.4 billion capital injection to strengthen the new bank. Banamex' shareholders would end up with 65% of the new entity. Spain's BBVA, in contrast, wanted to control Bancomer with just a stake of 30% or so.
NO OPTION. Some kind of merger between Mexico's top two banks has long been rumored, since only a Mexican megabank would be able to stand up to global banks. Two of those giants are in the running for Serfin: Britain's HSBC Holdings PLC and Spain's Banco Santander Central Hispano (BSCH). The May 8 auction could fetch anywhere from $500 million to $1 billion. That's a pittance compared with the $10 billion cost of Serfin's government bailout. Yet closing Serfin down was never an option, since authorities would have had to come up with cash to pay off all depositors.
Serfin's main draws are a 572-branch network and 2.5 million depositors. HSBC Holdings already holds a 20% stake in Serfin, but it must face off against the hungry Spaniards. Santander has just 5.1% of the Mexican bank market, and it badly wants more.
TIGHTENING CREDIT. The next stage in Mexico's bank consolidation will come at the end of May, when the government will open bidding on Bancrecer, another failed bank. So far, only Monterrey-based Banorte has expressed any interest. However, if the Banamex-Bancomer deal pans out, Banorte and Bital, one of the other remaining Mexican banks, will both find themselves under pressure to find foreign partners. And BBVA, if it's rebuffed by Bancomer, may be on the prowl again.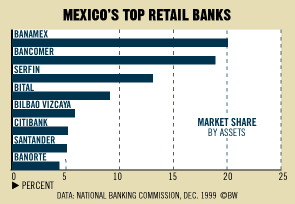 Do Mexicans care about the consolidation and foreign invasion? Probably not. Tellingly, the issue has not even come up in campaigning for the July 2 presidential election. Instead, opposition candidates are reserving their criticism for the government, which they accuse of bailing out fat-cat bankers. What does matter to ordinary Mexicans is that the banks begin to lend again. Credit contracted 9% in the 12 months through March, according to Standard & Poor's.
The government, meanwhile, has been working to make Mexico a safer place for lenders. A revamped bankruptcy law and separate legislation that makes foreclosures easier were both approved at the end of April. Analysts caution that it will take at least a year before it's clear whether the laws are enforceable. So ordinary Mexicans may have to wait awhile for a mortgage. But by then, at least they'll know who's running the branch on the corner.
Before it's here, it's on the Bloomberg Terminal.
LEARN MORE