Luring Investors With Honey...May Not Wash With Moscow
Kristina Shevory
As the fireworks for the gala opening faded away into the night sky on Feb. 16, Andre Calantzopoulos, Philip Morris Cos. president for Eastern Europe, gestured at the gleaming, $330 million cigarette plant, explaining why his company had chosen to build in the little-known town of Gorelovo, southwest of St. Petersburg. "This factory, the largest of Philip Morris' in all of Eastern Europe, is here because this is a strategic location," he explains. "Tax benefits come and go. We built here to supply the Russian market."
Well, maybe--but it's hard to believe tax perks had nothing to do with it. Since it passed a new investment law three years ago, the Leningrad Oblast, the Ireland-size region that surrounds but does not include the city of St. Petersburg, has proved a powerful magnet for foreign investment. Almost $350 million flowed into the area in 1999, up from $290 million in 1998, and Sergey Naryshkin, head of the oblast's committee on external economic relations, figures $350 million more will arrive this year. Investors include Caterpillar, International Paper, and Ford. An envious St. Petersburg, once known as the Window to Europe, is now scrambling to keep up.
Investors first got interested in the oblast in 1997, when its then governor, Vadim Gustov, signed into law one of the most progressive foreign investment bills in the country. The law exempts companies from the regional and local portions of federal taxes on profits, property, and road use until their investment is recouped. It also sets the minimum amount of investment eligible for these concessions at a modest $1 million, and allows investors to calculate their recoupment in hard currency instead of rubles, thus avoiding inflation risk.
The law stole some thunder from St. Petersburg, which until then had swallowed most of the investment in the area. Companies setting up shop there--among them Coca-Cola, Wrigley, Gillette, and Japan Tobacco--have helped the city post steady increases in foreign investment, from $140 million in 1996 to $350 million in 1999. "Five years ago, when we were deciding where to build our second plant in Russia--after Moscow--the choice was obvious: St. Petersburg," says Dimitry Chuksev, Coke's external affairs chief for Russia. "We didn't even consider the oblast."
"CATCHING ON." But right after the oblast passed its tax regime, multimillion-dollar projects started flowing in. Alarmed at its neighbor's success, St. Petersburg scrambled to pass its own investment law in 1998. Although the act doesn't go as far as the oblast's, many foreign observers see it as a step in the right direction. "St. Petersburg had the attitude that it was doing you a favor to let you invest. It looks as if the city is finally catching on," says James T. Hitch, managing partner at law firm Baker & McKenzie, which advises foreign companies.
Other investors say St. Petersburg's bureaucracy remains unresponsive. "In the city, you call up to make an appointment to speak with someone about your proposal, and you're told to send a request in writing," complains Sviatoslav Bytchkov, executive director of the St. Petersburg chapter of the American Chamber of Commerce. "You call up the oblast, and they immediately set up a meeting with the key people." If that continues, investors may keep voting with their dollars.
While St. Petersburg and the oblast compete for investment, the two are teaming up to fight recent attempts by federal authorities to repeal the tax concessions they're using. Moscow argues that deductions from federal taxes can only be granted at the national level. St. Petersburg recently filed a letter with the Justice Dept. asking for a ruling within a month.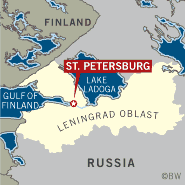 Both city and oblast officials are upset by what they see as a Moscow attempt to force them to go back on their word, thereby destroying the credibility they had built with investors. "The federal officials are absolutely ruining our tax policy," says Nikita Maslennikov, head of St. Petersburg's investment department. "Here we have been keeping all of our financial obligations, never defaulting as other regions have, and this is how we are rewarded." If feverish lobbying by local officials, investors, and trade bodies fails, the area's investment bonanza may fall victim to Russia's fundamental problem: the inability of the government to keep its promises.
Before it's here, it's on the Bloomberg Terminal.
LEARN MORE