Koreans Go Crazy For Broadband
Korean companies are scrambling to wire homes with the Net
Moon Ihlwan
When Lee Moon Soo was looking for high-speed Internet access at home, only a tiny proportion of South Korean residences received broadband service. So Lee moved into one of perhaps 60,000 flats nationwide that did. "They said it was the first cyber-apartment," says Lee, who sells vacations for an online shopping mall. "It fit the bill." Now, Lee logs on for three to four hours a day in search of travel-related information. No longer need he stay at the office after work to catch up online.
One year after Lee moved into his cyberpad, demand for broadband service has become ferocious, and developers are falling over themselves to build digital homes. "They might as well forget about selling new apartments unless they are wired up," says Moon Heung Sik, who manages housing projects for Samsung Corp., the chaebol's trading, construction, and real estate arm.
Companies such as Moon's are tying up with telecoms and Internet service providers to build homes that arguably are the best equipped in Asia for the latest in Internet communications. In the past year, 1.5 million--one in eight--households signed up for broadband service. If the pace continues, officials say a quarter of Korean homes will have broadband by yearend. Compare that with 5% of U.S. homes. If Koreans find a use for all this capacity, they could become a world leader in delivering the latest in educational, cultural, and shopping-related Net services to the masses.
Korea was ripe for a Net explosion. Just over half of its 12 million households inhabit apartment blocks, which are cheaper to upgrade than residential districts. It will cost some $1.5 billion to wire 3 million homes with a combination of copper, optical fiber, and cable. Telecoms and developers will bear the bulk of the cost. In the past, Korea's dense concentration of residential towers was blamed for traffic congestion and pollution. But "in this Internet Age, that same problem is turning out to be a blessing," says Song Kwan Ho of the Korea Network Information Center, which tracks online developments.
The chaebol also are wiring homes to local area networks, or LANs, for tailored services. A pioneer is Daelim Industrial Co., which last year launched fiber-optic service at Seoul's Acrotown. About three-quarters of the 490 households there are wired. "Since moving into Acrotown, the Internet has become an essential part of my life," says Ell ina Park, 39. "I learn music, listen to British radio, trade stock, and chat with my neighbors--all on the Net."
Other chaebol are copying Daelim. Samsung's property development arm, for example, has tied up with Hanaro Telecom Inc. to offer all-you-can-surf access for $36 a month. "The strategy to market cyber-apartments was a great hit," enthuses Samsung's Moon. More than 5,000 families moved into the wired homes in 1999, and 10,000 are set to do so this year, when Samsung plans to offer richer content--ranging from video-on-demand to kimchi recipes. Another carrot: two years' free Net access.
KOREA.COM. Samsung's foray into wired homes prompted Daelim to form Icitiro Co., a consortium of chaebol and content providers. In April, a similar alliance called Techno Villages formed among 13 construction companies--including Lotte, Daewoo, Kumho, and Kolon--and seven tech firms. Both consortiums will build portals for apartments.
Anyuser System Co., a $2.3 million startup, has even linked up with a fledgling telecom to lend out Web videophones. Featuring an icon-based touch screen to help newbies get started, they access a broadband and portal service combining Internet, telephony, and video for $18 a month. Anyuser began testing in April, connecting 1,000 homes to shops and government services. Residents can buy flowers, get patient data from a local hospital, book movie tickets, and so forth.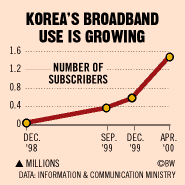 The government is squarely behind the broadband initiative. Last year, it began rating buildings based on the quality of their datalines. The greater the speed and bandwidth, the more developers can charge apartment buyers--an incentive to upgrade Internet hardware. The government also yanked Korea Telecom's monopoly to boost competition in the race to lay the so-called last mile of the nation's communications backbone--that is, the lines into individual homes.
All the new pipes will give consumers greater access to information about products and prices--removing barriers to commerce and boosting efficiencies. The question is whether Korea can train the pool of technology experts and build the sound financial system required to make a successful transformation to the New Economy. If it works, it may be time to change the country's name to Korea.com.