First Union Turns Gold Into Straw
Its inherited small-biz unit, once a star, needs rescuing
Heather Timmons
When First Union Corp. bought The Money Store Inc. in 1998, most people thought the $250 billion Charlotte (N.C.) bank was getting a consumer lender best known for its baseball pitchman, Phil Rizzuto. In fact, the bank was also snagging a longtime leader in the unglamorous but profitable business of making federally backed loans to small businesses.
Two years later, Money Store's small- business unit, now called First Union Small Business Capital, has lost market share, top-level employees, and prestige--to such a degree that First Union has brought in an executive from a rival to sort out the mess. So far, though, it's slow going.
The unit's new president, John L. Guy, formerly executive vice-president of marketing at Heller Financial Inc., plans to sell First Union investment and banking products to small-business borrowers, generating greater profits from these customers. "It's a very important part of the bank's strategy going forward," he says. But he admits that First Union Small Business won't make the $1 billion in loans it projected this year. For one thing, training First Union's bank branch employees to make the loans is taking longer than expected.
The problems couldn't come at a worse time. Demand for small-business loans is at a record high--and they're easier than ever for banks to make because Washington has simplified the process of obtaining Small Business Administration guarantees. In fact, First Union rivals such as Bank United Corp. and U.S. Bancorp are raking in business, thanks to experienced former Money Store employees who jumped ship.
First Union's difficulties in integrating and running the once-stellar Money Store division are typical of the problems it has been having with acquisitions lately. After its $19.8 billion deal for CoreStates Financial Corp. in 1998, for example, it lost scores of customers who complained of poor service. The missteps have even made it fodder for takeover rumors, which First Union says have no substance.
When First Union bought The Money Store for $2 billion, the company's small-business unit had been the leader in federally guaranteed loans for 15 years running. A demoralizing round of layoffs cost the unit about 100 employees, or 5% of its payroll. Since then, hundreds more have bolted, insiders say. Loan volume in 1998 fell 40% from the year before (chart). And last year, the unit was overtaken by rival Heller Financial as the top lender in the sector.
"JUST A NUMBER." Former employees and competitors say that neglect, overcaution, and broken promises have brought the unit down. The Money Store "was an open organization that respected the input of its employees," says a former longtime manager who left to join Houston-based Bank United's growing small-business division. "At First Union, we were just a number."
Critics say the bank treated the unit as little more than a minor activity alongside Money Store's main home-equity lending business. For nine months, it reported to First Union's consumer lending division. Then, for a year, it reported to First Union's commercial lending division, through an intermediary. "We were dealing with people who didn't know anything about small-business lending," says another manager who also works at Bank United.
Also high on ex-employees' list of complaints are First Union's heavy-handed layoffs. In a presentation in Sacramento a few weeks after the deal was announced, the bank assured the small-business unit's employees that they would be retained, several say. A week later, 900 Money Store employees were cut, more than one-tenth of them from the small-business unit. First Union added insult to injury by requiring them to leave immediately, they say, increasing bad blood in a division that ex-employees refer to often as "like a family." First Union says displacements are natural with any acquisition.
Rivals say that the unit posed less of a competitive threat after the takeover because it wasn't as aggressive. "The Money Store used to do loans against real estate, do loans for 90% of a building's value--they don't do that anymore," says Gary Mullin, president of Business Lenders LLC. Mullin and other competitors say they were inundated with resumes from unhappy Money Store employees.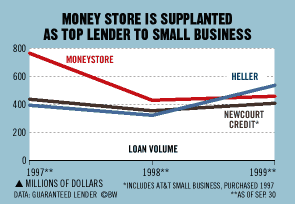 All in all, loan volume at the unit grew just 6% last year after a decade of stellar growth before 1998. Worse yet, that happened as small-business lending was booming. Loans guaranteed by the SBA increased to a record $12 billion last year. Meanwhile, small-business lending by big banks rose 21% in the year ending June, 1999, to $172 billion, up from a 14% rise the year before.
Still, there are signs that the worst may be over. Business Lenders' President Mullin says the flow of resumes from Money Store employees has lessened. And, says Guy, ex-employees are even starting to ask for their old jobs back. Now he has to lure the borrowers back, too.
Before it's here, it's on the Bloomberg Terminal.
LEARN MORE