Commentary: If Janus Ain't Broke...
Jeffrey M. Laderman
When it comes to railroads, there's nothing quite like Kansas City Southern Industries Inc. (KCSI). Over the past five years, the company's stock has performed like a Japanese bullet train, up nearly 500%. Compare that with the New York Stock Exchange Transportation Index, which chugged along with a 60% return. KCSI's financial and stock-price performance even earned it a spot in this year's Business Week 50.
The real engine behind KCSI's returns doesn't run on diesel fuel. What's moving the company forward is cash--the cash pouring into Janus mutual funds because of the huge investment returns earned by Janus portfolio managers. KCSI owns 82% of Janus Capital Corp., the funds' management company, and last year, Denver-based Janus accounted for 64% of KCSI revenues and 88% of net income.
CONFLICTS. Now, the managements of KCSI and Janus Capital are pulling in opposite directions. KCSI wants to spin off Janus, Berger Associates Inc., and assorted other financial properties into a new holding company called Stilwell Financial (named for the founder of the railroad), while keeping Stilwell under its control. KCSI Chairman and CEO Landon H. Rowland plans to be Stilwell's nonexecutive chairman, with Joseph D. Monello, KCSI's chief financial officer, as CEO. They say its the only way to get the spin-off done tax-free.
Janus management wants a spin-off, too, but as an independent unit. "We don't believe the full value of Janus will be realized by spinning us off as part of another holding company," says Steven Stieneker, Janus' vice-president for public affairs. Janus' advisers say it could go off on its own without a tax headache for KCSI.
Most on Wall Street believe the Stilwell spin-off will happen--perhaps before the quarter is out. But Rowland and the KCSI board should think again before jamming Stilwell down Janus' throat. What's best for KCSI's 6,200 shareholders may not be what's best for the 3 million investors who entrust $300 billion to Janus but have no vote on the outcome.
For sure, the Janus team--with deft stockpickers like James P. Craig, Helen Young Hayes, Warren B. Lammert, and Scott W. Schoelzel--is the hottest lineup in the mutual-fund game. Messing with the investment talent can put fundholders' stakes at risk if the spin-off leads to defection of portfolio managers. No one has threatened that yet, but, in the event of the Stilwell spin-off, says Stieneker, "each manager will have to take his or her counsel."
KCSI didn't help matters when on Apr. 24, it filed an amendment to its annual report that was essentially a legal opinion asserting its right to remove Janus Chairman Thomas H. Bailey. KCSI later praised Bailey but said the filing was necessary to assure the Securities & Exchange Commission that it had control over Janus--a necessity to getting the spin-off. Bailey did not respond to the KCSI statement, but others did. "Janus shareholders are not well served by the kinds of statements KCSI is making," says Michael Stolper, a longtime Janus Capital director.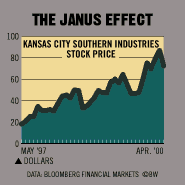 You have to hand it to KCSI for having the foresight--or luck--to have invested in Janus in 1984, when its stake cost $25 million. Back then, Janus managed $400 million. Analysts figure that the Janus investment is worth at least $7 billion, 10 times the value of the railroad itself. And you have to credit KCSI for giving Bailey plenty of leeway in building the company.
Is the Stilwell deal necessary? Most of the time, companies are spun off to give them higher profiles. That's hardly the case here, since Wall Street knows that Janus drives the railroad's stock and KCSI is mainly followed by analysts who cover financial firms, not railroads. "With or without the spin, it's an attractive company," says Bradley G. Ball of Credit Suisse First Boston.
Indeed, if the Street is ambivalent about a spin-off, why go ahead with a deal that could upset the winningest team in the fund business and disappoint millions of investors?
Before it's here, it's on the Bloomberg Terminal.
LEARN MORE