Burning Rubber At Reebok
First-quarter profits are up 77%. Are its problems over?
Louise Lee
Joseph Mulero, a 34-year-old medical assistant and fitness junkie in San Francisco, hadn't bought a pair of Reeboks in years. "There just wasn't a style that appealed to me," he says. But Mulero recently dropped $80 for a new pair of Reebok running shoes. "I love them. They mold themselves to my foot and look great," Mulero says.
For the first time in recent memory, Reebok International Ltd. has some spring in its step. After five years of weak sales, a sinking stock, and investor weariness with a revolving-door executive suite under Chief Executive Paul B. Fireman, the Stoughton (Mass.)-based sneaker giant seems to be making a surprising comeback. Since early March, its stock has more than doubled in value; for the month of April, it was the top performer in the Standard & Poor's 500-stock index. "It could be the start of a major turnaround for the company," says Gregory Jackson, analyst for the Oakmark Small-Cap Fund, which owns 200,000 shares of Reebok.
"SMART" SHOES. Part of the enthusiasm reflects a belief on Wall Street that the three-year downturn in the athletic-shoe industry may be ending. Sneakers, it seems, are once again in vogue with teens and young adults. Improving sales and margins have also led to a stock runup at rivals such as Nike Inc., whose shares have risen about 15% in the last month.
But Reebok has plenty of good news of its own. On Apr. 25, the company reported a 77% surge in first-quarter earnings, to $31.7 million. For the year, analyst Dennis S. Rosenberg of Credit Suisse First Boston estimates net income will leap to about $70 million, up from $11 million in 1999, on a 0.4% sales gain, to $2.91 billion.
The turnaround is being driven in part by cost-cutting over the last year. Some 500 jobs at Reebok's headquarters have been slashed, and inventories are down 23.9% over the past 12 months. So even though first-quarter sales dipped slightly to $769.8 million--reflecting in part a 3% decrease in athletic footwear sales in the U.S.--the cutbacks helped trim expenses to 30.5% of sales. That's down from 32.1% a year earlier.
At the same time, Reebok is delivering on long-promised product improvements. Footwear such as its Classic white shoes and Traxtar "smart" shoes, designed to measure how fast the wearer runs, are scoring with shoppers. The result: a 3.6% jump in Reebok's U.S. order backlog, a key indicator of future growth.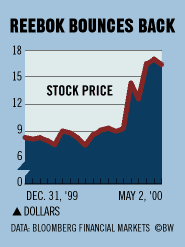 Retailers also like some of Reebok's new moves. The firm is increasingly offering styles and colors on an exclusive basis to individual chains, giving each of them a marketing edge. "Reebok's still got a strong brand. We're excited to see its new shoe technology," says John Douglas Morton, CEO of Denver-based Gart Sports Co. He expects Reebok sales at his 126 stores to increase this year after declining in 1999.
Still, after years of disappointing investors, Reebok hasn't convinced everyone that all its problems are behind it. "Overall, you can see the numbers aren't there yet," says Donald A. Yacktman, president of Chicago-based Yacktman Asset Management Co., who sold his fund's Reebok shares last year. Reebok may be getting into shape, but it's going to take more than one quarter to convince investors such as Yacktman that it's truly back on its feet.
Before it's here, it's on the Bloomberg Terminal.
LEARN MORE