A Love Affair With The Stock Market
Justin Keay
It is a cold, gray, spring morning, and Warsaw is dragging itself to work. Commuters push into trams with a sense of resignation that has survived communism. The dull architectural uniformity--a result of the city's almost complete rebuilding from the ruins after 1945--seems absolute except for an imposing building on the corner of Jerozolimskie and Ujazdowskie. Once the headquarters of the Polish Communist Party, it is today, in a supreme irony, the Warsaw Stock Exchange, a warren of offices where the computer screen, not the trading floor, is king.
"There--that's where all the excitement is," says the news vendor standing opposite, on the corner of Nowy Swiat. Indeed, the exchange is the big show in town--a town that, while having grown noticeably more sophisticated since the old East bloc days, could in no way be mistaken for a Western European city in terms of fashion, technology, or outlook. Since few citizens are online, investors--a cross-section of professionals, blue-collar types, and the odd housewife--actually troop into the exchange during their breaks to see how their issues are doing on the ticker. They are just the tip of the iceberg: An estimated one out of four Poles plays the market. Unlike the Czechs or Hungarians, Poles seem not so much in transition to capitalism as in a headlong rush toward it.
Early in the 1990s, Polish natural enterprise found expression in the many street markets that sprang up overnight. In a country where toilet paper had been a precious commodity and where Western goods were pawed over as if they bore the secret to life itself, everything from CDs (pirated, of course) to Sony TVs suddenly abounded.
Today, Poles have forsaken the outdoor market for the stock market, encouraged by almost daily reports of new millionaires and by a strong sense that this is the train to be on. Feeding the boom, too, is the notion that it is Western and hip to be an investor--like going to McDonald's or drinking Budweiser. In the trendier parts of Warsaw, sausage and sauerkraut downed with vodka or beer have been replaced in sparkling new establishments by healthier fare for diners with less time to kill. The conversation has changed, too: "What did the index close at?" or "Computerland is well worth looking at."
At times, nearly all of several hundred listed issues seem worth a look. This year, the Warsaw Stock Exchange Index (WSE) has already risen by some 16%: Since October, when the bull run started, the rise has been closer to 30%.
HOT TIPS. Some of the optimism can be attributed to the government's privatization program, which has brought more companies onto Eastern Europe's largest bourse, sparking the interest of Western portfolio investors. Pension reform has also played a part: Since late last year, private pension funds have been pushing an estimated $50 million a month into the market.
The main impetus has been the Polish people, however, with individuals making up a majority of investors. The country's newspapers feature stock indexes the way Western papers give racing results, pointing out the biggest winners and losers and publishing tips on companies as if they were horses. The hottest sector is information technology, and companies that have anything to do with computers, Internet sites, or e-commerce have soared.
"None of this seems real," says Andrzej Tabor, director of Bank Handlowy in Warsaw, gazing at the ever-rising prices of technology shares on his laptop screen and shaking his head. "These companies are tiny, and many haven't established proper Web sites, let alone invested in e-commerce technology."
ONLY RIPPLES. Companies such as Optimus, Prokom Software, Softbank, and Computerland have become household names, their prices checked eagerly every morning over breakfast. When the Nasdaq and London Stock
Exchange fell in early March, the WSE took only a small tumble, encouraging more Poles to jump on the bandwagon. And even though there have been ripples from Wall Street's latest turmoil, they have remained only ripples.
But Tabor warns that things are getting out of hand: "You know, there's something crazy going on when you start to read about little old grannies investing in stocks." He points to the example of Ariel, a producer of cheap plastic shoes, which he says was close to bankruptcy until it announced vague plans to get involved in e-commerce. When it did, its share value leaped by 250%.
Despite all the speculation, Tabor's skepticism seems widely shared. In polls and interviews, citizens say they are troubled about the current-account deficit--7.5% of gross domestic product, and rising. And they're concerned that the huge, unreformed agricultural sector, employing more than one-quarter of the workforce, may preclude Poland from membership in the European Union. Those fears are being heightened by a stream of warnings from the EU that Poland is falling behind on economic reform and legal standardization.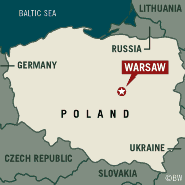 Yet just as some folks in other countries might escape life by playing the lottery or the slots, Poles throw everything at the stock market, hoping to make millions and toss away all cares. Winning big has become part of the story line in Poland's leading TV soap, Foster Family. The papers run stories of people putting their life savings into just one stock. "Fingers will be burned," warns Tabor, pointing to 1994, when the WSE index broke 20,000 early in the year, only to crash toward 7,000 by June. But for now, money seems to be burning holes in people's pockets.
Before it's here, it's on the Bloomberg Terminal.
LEARN MORE