A Legend For How Long?
Fast-growing Legend Computer will soon face foreign rivals
by
One recent Sunday, Qi Wei and his parents walked into Beijing's Landao Department Store and plunked down $1,920 for a Tianxi PC. Built by Legend Holdings Ltd., China's foremost computer maker, Qi's new toy features the latest Pentium III chip, a 56k modem, and a DVD player. What really caught the 14-year-old's eye, however, was the digital pen that allows him to write Chinese-character e-mails. "Cool," said Qi.
For now, Legend has a good grip on customer Qi. But to keep him coming back, it will need to do even better. Sure, Legend has made remarkable progress since its founding in Beijing 16 years ago. It controls 21.5% of the domestic PC market and is now dominant in the Asia-Pacific region outside Japan. In 1999, reckons Goldman, Sachs & Co., Hong Kong-listed Legend made $58 million on revenues of $2.2 billion. But impressive numbers tell only half the story: A majority of Legend is state-owned, and it has prospered behind protectionist walls flung up by its patrons in Beijing.
Not for much longer. Later this year, China probably will enter the World Trade Organization. Then it will have to start knocking down those walls and give IBM, Hewlett-Packard, and Dell a fighting chance to compete effectively against Legend on the mainland. Equally ominous, these Western rivals had their Net strategies in place years ago and are used to operating in an industry where margins are wafer-thin and the next big thing is yesterday's news. "We are facing serious challenges with the advent of the Internet," says Legend Holdings Ltd. CEO Liu Chuanzhi. "Chinese PC makers lag behind international companies."
SPLIT DECISION. Legend's goal: morph from stodgy hardware manufacturer into nimble New Economy player. In April, top brass announced the company would split in two. Legend Computer Systems Ltd. will focus on the hardware and distribution business and move into wireless devices, Net service, and portals. Legend Digital China will develop e-commerce software and services. "We're trying to ensure employees understand that the Net, not the computer, will lead our development," says Legend Digital China President Guo Wei, 37. To lure young brainpower, Legend is sweetening its Hong Kong-listed stock-option program.
The Web remains in its infancy in China. But it's a fast-growing infant: By yearend, surfers are expected to double in number, to 20 million. Legend wants a piece of that. First step is to make all its products Internet-enabled. Buyers of the Tianxi PC get a year of free Net access through China Telecom Ltd., the nation's largest service provider. Special keys take users to popular sites, e-mail, and technical support menus. Next up: a line of palmtops, developed with Motorola Inc., featuring wireless Net access.
Legend also has embarked on a foray into set-top boxes that allow people to surf with their TVs. The $421 Stock Easy gadget, for example, lets users do online trading and access market trends and company data. Eager to exploit China's 80 million cable subscribers, Legend has teamed up with Richard Li's Pacific Century CyberWorks Ltd. to develop a broadband cable service.
Legend is even stepping into the content game. Timed with last year's release of its new Internet-friendly computer, the company launched a portal called FM365.com, so called because Legend's new Web "channel-changer" resembles a radio dial--and because the company hopes users will log on 365 days a year. The portal has education sites--users can take English, sciences and other courses--plus trade stocks and buy stuff.
Last month, Legend raised $363 million on the Hong Kong stock market--seed money to buy portals in China and abroad. "They're in a better situation than many pure dot-com startup companies," says Chang Sun of E.M. Warburg, Pincus & Co. Asia Ltd. "They understand consumer mentality. They have cash--and a talent pool to draw on."
And, of course, Legend is leveraging its stellar connections to win government contracts. China's ministries and state enterprises need a lot of help getting online. Among Legend's deals: introducing e-banking to the Bank of China and other lenders; and computerizing the China State Bureau of Taxation in 19 cities--eventually making it possible for people to pay e-taxes.
Legend's Big Net Attack is audacious--especially for a hardware maker used to operating in a protected market. Will it pay off? Much depends on the authorities, which have put their mitts all over the Net--be it restricting online stock trading and news content or controlling startups' access to overseas listings. Making matters worse, rival bureaucracies are feuding over Net policy. "We hope the government will make an early decision on rules for this important industry," says Legend CEO Liu.
COLD WATER. Meantime, the homegrown competition is heating up. Legend faces entrenched portals like Sina.com, Netease.com, and Sohu.com. Rival PC and software maker Founder Holdings has launched a textbook retail portal, foundbook.com. To stay lean, Legend has put distribution online. Its 2,000-plus licensed retailers can e-order the entire product line. One retailer says delivery time has been cut from an average of five days to three or less.
The big challenge will come from abroad. Compaq Computer Corp. plans e-commerce centers around China that will sell business-to-business tools. Hewlett-Packard plans to sell Chinese-language software for e-banking, portals, and the like.
The WTO entry, however, will be like a splash of cold water. Tariffs on imported PCs fall from 13% to zero by 2005. Foreign makers will be allowed to do their own distribution. Dell, now focused on business clients, intends to go hard after consumers--just like Legend. "It's too big a market to ignore," says David Chan, Dell China president.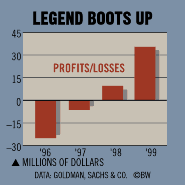 Even with the walls gone, Legend can use its guanxi to persuade rivals to work with it, not against it. In March, Legend and National Semiconductor Corp. announced plans for a research and development lab in Beijing. Over the next months, they will roll out set-top boxes, network computers, and wireless devices. Legend has set up a $10 million joint venture with Taiwan's D-Link Corp. to make Internet hardware.
To its credit, Legend does not use its connections to push shoddy product. It has built a respected brand, a huge distribution network, and strong after-sales support. It is, in short, one of China's best-run state enterprises. But if Legend's young managers don't get the mix right, customer Qi's next PC may well be--gulp--a Dell.
Before it's here, it's on the Bloomberg Terminal.
LEARN MORE