Where Guerrillas Turn Hoteliers...And Street Gangs Are A Threat
Lucy Jones
Visitors to the airy Oasis guesthouse in San Salvador may be surprised to learn that Carolina Alegria, the motherly 31-year-old serving them eggs and coffee, is also handy with an anti-missile launcher. Her husband Damian, 43, who these days helps backpackers get their e-mail, was once a spokesman for the rebel forces of the Farabundo Marti National Liberation Front, or FMLN. "When the war ended, we had to find a way to make a living, so we decided to open a hotel," says Damian.
So did dozens of his ex-comrades, who oddly enough had learned hospitality skills during the civil war that halted in 1992. For more than a decade they had found lodging for European and American leftists showing solidarity with the revolutionaries and had guided foreign journalists behind rebel lines. Some 20 or 30 rebels now run hotels in just one neighborhood of San Salvador, the bohemian Boulevard de los Heroes district. And their success is sparking a crisis of conscience among these communists turned entrepreneurs. "Making money is a dilemma. We ask ourselves daily whether we are moving away from the revolution," says Damian.
A former rebel captain, Alegria first tried to earn a living from retailing cheese and earrings made by villagers. But he couldn't turn much profit, so he set up the Oasis in 1993. It's decked out with a painting of Che Guevara, posters of FMLN military hardware, flags, and photographs of his comrade guerrillas. It has proven popular with Western aid-agency employees. Even his Mexican Zapatista comrades who were recently in town paid the $10 that bed and board cost--not much for a developed country, but a goodly sum in a country where many earn $50 a month.
The owner of the breezy International Hotel, poet Tirso Canales, shares Alegria's mixed feelings. Canales was the official FMLN representative and fund-raiser in Costa Rico. He proudly displays in the reception area a framed letter from Fidel Castro, complete with Cuban postmarks. But revolutionary poetry doesn't pay the bills quite like a group of professors from Canada.
SHUNNED. Some FMLN members aren't overjoyed by their former comrades' success. "We've been shunned by a few of our companeros," admits Alegria. The hoteliers are also discovering that running a business is just as much work as making the revolution. "I don't have time for political meetings anymore," laments Canales.
The Alegrias recently enrolled in university courses--he in economics and she in business and administration--partly to find a way through their intellectual dilemmas. They now talk about "adding value" to their hotel service by providing guests with Web access. "It's all very well to demand an equal distribution of wealth, but it's important to learn how to create that wealth," says Alegria. That's radical talk for a former Marxist soldier.
A less-welcome byproduct of the war--this one exported from the U.S.--is street gangs. El Salvador's cities and even some rural areas have been divided up between extensions of the Los Angeles-based 18th Street and Mara Salvatrucha gangs. Street gang culture was introduced to El Salvador in the early 1990s when the U.S stepped up the deportation of immigrants with U.S. criminal records. In the last fiscal year, the U.S. deported 62,359 criminals, up from 37,000 three years ago. Thousands were Salvadorans who fled their home during the war years. "More than 300 deported Salvadorans arrive in the country every month," says Eduardo Linares, head of San Salvador's metropolitan police.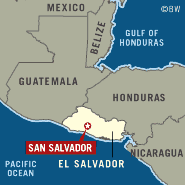 As a result, crime levels have soared. Gang members are responsible for around 10% of El Salvador's staggering annual murder rate of 120 homicides per 100,000 people (the U.S. rate is 8 per 100,000, Britain less than 2 per 100,000). They also rob backpackers, kidnap people, steal cars, deal crack, and extort money from businesses. "Kids see deported gang members from Los Angeles who have nice clothes, who make money selling drugs and doing tattoos. They want to be like them, not like their fathers working in the fields," says William Huezo, who was deported from L.A. last year. Some government members have complained to President Bill Clinton about the U.S. policy, but so far, Washington has steadily boosted the number of deportees. Those FMLN hoteliers better keep some weapons around.
Before it's here, it's on the Bloomberg Terminal.
LEARN MORE