business
U.S.: A Second Quarter Pause That May Not Refresh
Strong job markets and high confidence will limit any slowdown
By
It's hard to believe that the economy can keep up its breathtaking 6% growth rate of the past three quarters. And very likely it will not, if only because consumers seem poised to take a breather from their dizzying pace of spending. But even if demand cools off a bit in the second quarter, investors and policymakers will have to answer two key questions: Will the slowdown be lasting or temporary? And will it be enough to ease the Federal Reserve's worries about inflation?
With the second quarter well under way, two trends argue that any meaningful slowdown is still a ways off: First, initial claims for unemployment insurance in April continue to drift lower, signaling that labor markets are getting tighter as companies go begging for workers. And second, indicators of consumer confidence do not show any dramatic shift in household attitudes in the wake of the huge sell-off in technology stocks. Strong job markets and stock wealth have been the power behind consumer spending.
All this matters because consumers control about two-thirds of real gross domestic product and their torrid pace of buying has accounted for nearly all of the GDP growth during the past two years. The Fed knows that the economy will not slow unless consumers close their wallets. So the central bank has been lifting interest rates to cool off domestic demand before cost pressures take hold. The worry now: Demand has grown so fast for so long that businesses are gaining at least some small measure of pricing power.
DESPITE THE FED'S INTENTIONS, consumers remain upbeat about the economy. The Conference Board's index of consumer confidence fell in April to 136.9, from 137.1 in March (chart). Confidence has been slipping in recent months, but its fall is from a record 144.7 hit in January. And the April reading is a point above the average of the second half of 1999 when real consumer spending grew at a 5.4% annual rate.
It's important to note that the cutoff date for the April survey responses was Apr. 14, the Black Friday when tech stocks led a broad market sell-off, so any possible psychological impact from that day's events is not captured in the reading. But even before that day, the Nasdaq had already plummeted 27% from its March peak, and households seemed little fazed. In April, consumers' assessments of their present economic condition dipped a bit, but their expectations for the coming six months actually improved. "The recent volatility of the financial markets clearly has had little, if any, impact on consumer confidence," says the Conference Board's Lynn Franco.
Consumers seem more impressed by the buoyant state of the labor markets. The board said that 52.4% of respondents described jobs as "plentiful." That reading was down from the record 55.2% share in January, and those upbeat attitudes are consistent with the ongoing downtrend in initial claims for jobless benefits.
In the week ended Apr. 15, new claims fell to a 27-year low of 257,000. Adjusted for the size of the labor force, that was a postwar record. Moreover, the four-week moving average of claims, at 262,500, has fallen sharply in recent weeks (chart), hinting at another downward step in the unemployment rate when the Labor Dept. releases its April employment report on May 5.
The trend in claims tends to lead movements in the labor markets and in the economy generally. As long as filings remain below 300,000 per week, there is little reason to expect any imminent slowing in the economy.
TO BE SURE, several negative factors will be working against consumer spending this quarter. Although gasoline prices are off their March peak, they remain high, which will steal money away from other purchases. Also, car sales are unlikely to match their record first-quarter pace, which was helped by dealer incentives that likely have "borrowed" some sales from the second quarter. Lastly, as the quarter wears on, fewer households will receive tax refunds, which added handsomely to buying power last quarter.
So far, though, retailers report excellent April sales. For the three weeks ended Apr. 22, seasonally adjusted sales rose a strong 1.4% from March, based on the survey taken by LJR Redbook Research. In March, retailers' results were hurt by a late-arriving Easter, but April buying appears to have picked up again.
One reason that the consumer buying spree has not yet triggered a big runup in U.S. inflation is the growing inflow of foreign-made goods. Imports have worked as a safety valve against production bottlenecks and supply shortages. Faced with soft demand at home and helped by a strong dollar, foreign producers kept their prices low to gain market share in the U.S.
Rising imports gave the economy some breathing room, but at a price: The trade deficit keeps setting records. Consequently, U.S. debt obligations to foreigners are at an all-time high, putting the dollar at risk. At the same time, global demand is picking up, lifting the growth rate for exports.
Capacity strains may eventually build in manufacturing unless domestic demand begins to ease up. Orders for durable goods rose 2% in March, and bookings in the first quarter rose almost twice as fast as they did in the fourth quarter (chart).
ONE KEY AREA TO WATCH, especially in the wake of the stock market's volatility and Fed rate hikes, is housing. Like claims, housing is another indicator that tends to foreshadow broader changes in the economy. Clearly, housing demand is well off its peak reached last year, but the level of activity remains high.
For example, sales of existing homes, about 85% of all homes sold, increased 1.5% in March, to an annual rate of 4.83 million. The National Association of Realtors says that 2000 sales will not match the record 1999 pace, but that the market should remain healthy. Indeed, through the week ended Apr. 21, the four-week average of mortgage applications to buy a home is at the highest level of the year.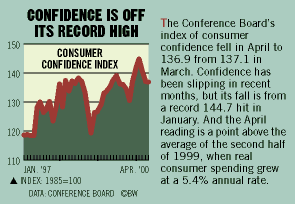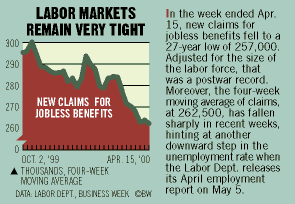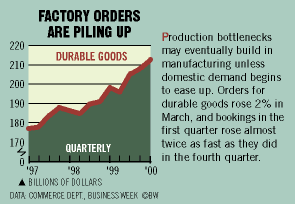 Although 30-year fixed mortgage rates have risen over the past year, home buyers are turning increasingly to cheaper variable-rate loans. A year ago in February, only 11% of new mortgages carried adjustable rates, but in February of this year, that percentage had jumped to 32%.
The advent of financing devices like adjustable-rate mortgages complicates the Fed's maneuvering to slow the economy. But a spring break among consumers seems to be shaping up. Don't expect that pause to stop another rate hike at the May 16 Fed meeting, though. The latest signs on the labor front and consumer attitudes argue that this respite will be brief. That means the Fed still has a long way to go before its tighter policy stance begins to cool off this economy and reverse the growing signs of pricing power among businesses.
Before it's here, it's on the Bloomberg Terminal.
LEARN MORE