The Wisdom Of The Bear
Robert Barker
Here I am, way off Wall Street. The Corners Office Park in Norcross, Ga., sits behind a shuttered Fuddrucker's. In Suite 150, I find Michael Orkin, who ushers me into a sleek little room off the trading floor where he runs Caldwell & Orkin. As investment firms go, it's modest in size, $410 million in assets. Yet it is distinctive for two related reasons: First, it sells stocks short as readily as it buys them. More remarkably, after this long bull market, it's still in business.
Orkin operates in classic hedge fund style, cutting overall market risk by betting that particular stocks will fall while others rise. That "has been really, really, really, really, really hard--and that's an understatement," Orkin tells me. From 1995 until 1999, the Caldwell & Orkin Market Opportunity Fund returned a yearly average of 24% at strikingly low risk, Morningstar says. Then, last fall, technology and Internet stocks went wild. Orkin rushed to cover shorts in such stocks as eBay and to buy tech instead. But not fast enough: The fund, now closed to new investors, ended 1999 off 4%.
TURNING POINT? This year, up 5% so far, looks better (chart). Yet anyone who has grown comfortable in the bull market, which turns 18 this summer, may wonder: Why ever bet against stocks? Because after bull markets come bear markets, Orkin notes, and they can last many, many years. "Risk is not static," he says. "Generally, the risk is being short because the market usually goes up. But at some point that changes."
Did the market hit that point on Mar. 10, when the Nasdaq composite peaked? I don't know, and neither does Orkin, but he's full of reasons why it might have. There were the familiar danger signs: supernatural stock valuations. High margin and consumer debt. A deep trade deficit. Record levels of stock ownership and enthusiasm, with the number of investment clubs quintupling since 1990. Beyond those indicators, Orkin is convinced that as the Federal Reserve raises short-term rates, draining liquidity from the financial system, stocks that gained the most, especially Internet shares, will suffer further.
Behind Caldwell & Orkin's rebound are bets against e-tailers. Online health-products store MotherNature.com, for one, began the year at 10 and recently scraped 1 1/2. Orkin happily covered that short position. He won't identify his open shorts, except that they're mostly Internet-related or in consumer finance. Filings with regulators show that the fund last fall was short consumer lenders such as Conseco and Associates First Capital. Among Net shorts: E*Trade and priceline.com.
Orkin's bearish bias has led him to tie up 18% more of assets in short positions than in stocks he expects to rise. Yet he still likes certain groups. He has 8% of the portfolio in such oil-service stocks as Ensco International, Global Marine, and Nabors Industries. He also owns semiconductor leaders Intel and Motorola, along with chip-equipment makers Applied Materials and Kulicke & Soffa. And he has such big-cap stalwarts as United Technologies and 3M.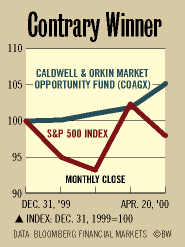 If all this simultaneous stock-panning and picking seems unusual, it is. So, among publicity-hungry fund managers, is Orkin. "He's not interested in becoming a star," Bill Rocco, the Morningstar analyst who knows him best, had warned me. Accurately, it turns out. In our more than two hours together, Orkin repeatedly suggests that I leave him out of this column. He doesn't want a high profile. He doesn't want to be a guru. "It's the kiss of death," he says. "It doesn't do any good for anybody."
Anxious to trade nimbly, Orkin doesn't even want more money to run and has no plans to reopen the mutual fund. A $100 million private hedge fund also is closed, but for a minimum $1 million Orkin will manage individual accounts, which he hedges with cash instead of short sales. So what can Michael Orkin do for you? Maybe just help you think about your portfolio in a different way. "Have caution and respect for the market," he says. "The first job is survival."
Questions? Comments? Send an e-mail to barkerportfolio@businessweek.com or fax (321) 728-1711
Before it's here, it's on the Bloomberg Terminal.
LEARN MORE