Southeast Asia's Motor City
Big carmakers bet heavily on Thailand. It may pay off
by
Just two years ago, they seemed emblematic of the overinvestment and corporate hubris that led to East Asia's crash. From the lush palm and pineapple groves in Thailand's Rayong province rose one huge auto plant after another, built by General Motors, Ford, BMW, and other auto makers anxious for a piece of the Asian boom. Dozens of foreign parts suppliers were building their own factories. A billboard at the entrance of the Eastern Seaboard Industrial Estate welcoming visitors to the "Detroit of the East" summed up the grandiose vision.
Yet today, that vision no longer seems quite so far-fetched. After retrenching in 1998, when Thailand's economy shrank 10.4%, U.S. and European carmakers are again adding new production lines. Thailand's recovery is a big reason. Car sales jumped 58% in the first three months of this year. More growth is expected, as consumers finally feel they can afford new vehicles. Also, Western manufacturers are finding they can profitably ship Thai-built cars to Europe, Australia, and even South America, thanks to the cheap baht and assembly-line wages of as little as $1 an hour.
More important, the strategy of using Thailand as a base for Western auto makers to challenge Japanese dominance in such emerging markets as Indonesia and the Philippines is looking more viable. The financial crisis has triggered a shakeout of weak domestic car companies in Southeast Asia, while most of the region's governments remain committed to a pledge to wipe out most import barriers by 2002. "We were right to come to Thailand," says Jesus Cordoba, president of BMW Thailand, whose just-opened plant expects to turn out 10,000 passenger cars this year.
To be sure, Southeast Asia certainly isn't the dazzling growth market that many corporate planners envisioned before the meltdown. Even with last year's rebound, car sales in Thailand, the Philippines, Indonesia, and Malaysia were less than half of the 1996 record of 1.46 million vehicles. And with few Asian economies expected to show the sustained 8% to 10% annual growth they once enjoyed, analysts have sharply lowered their long-term forecasts. Before the crisis, regional demand was expected to reach 2.4 million cars annually by 2006. Now, Bangkok-based Automotive Resources Asia predicts the market won't reach that level until 2010, at the earliest. The fact that factories in Thailand must export some 40% of their vehicles to other continents shows that capacity still exceeds local demand. Even market leader Toyota says it will be lucky to operate at 60% of capacity this year and break even.
But clearly, Thailand's car industry is emerging from the crisis in stronger shape than most of its neighbors'. The reason: the government's decision during boom times to throw the sector open to foreign carmakers, rather than foster national champions through heavy subsidies and other protective measures.
EARLY LEAD. Thailand's domestic market and its central location within Southeast Asia suffice to make large-scale manufacturing economically viable. Because such Japanese carmakers as Toyota and Honda have used it as a base since the 1980s, Thailand also has developed a pool of experienced workers and an established network of parts suppliers. Detroit carmakers that have settled in Rayong lured another 50 suppliers, including TRW Steering & Suspension Co. and Bendix brakes. That gives Thailand an industrial infrastructure that no neighbor can match. "If the auto industry is a 100-yard dash," observes Automotive Resources President Michael Dunne, "then Thailand is already 40 yards down the track, while the others are still getting out of the block."
These strengths helped keep foreign carmakers from aborting their plans during Thailand's downturn. GM Corp.'s decision to press ahead with a $600 million car plant in Rayong is a case in point. When construction began in 1996, it planned to compete against Toyota and Honda with a four-door sedan. But after the economy tanked, GM instead opted to make five-door Zafira minivans, sold in Europe by its Opel Div. GM also decided to sell the Zafiras, starting at $34,000, under the Chevrolet name in Thailand. GM has invested $50 million to build a nationwide network of dealers and service centers.
GM has a long way to go to catch its Japanese rivals, who control 90% of Thailand's 220,000-car annual market. Most Thais haven't seen a new Chevy on the road since the Vietnam War. "This will be a hard market to crack," concedes General Motors (Thailand) President William Botwick. Fortunately for GM, the Zafira is so successful in Europe that GM will be able to to export 85% of next year's Thai output of 40,000 vans, Botwick says.
Exports have been a blessing for other manufacturers as well. The plunge in the baht, which lowered production costs by 15% to 30%, helped Thai car exports almost double, to 125,000, in 1999. They could hit 175,000 this year. "Everyone is looking to export," says Toyota Motor (Thailand) Co. President Yoshiaki Muramatsu.
When Ford started making Ranger pickup trucks in Thailand in 1998, it expected to export half of its Thai output. Instead, it now ships eight out of every 10 Rangers to 40 different countries. Ford buys some 70% of its components locally, mostly from plants belonging to suppliers it uses elsewhere in the world. "We pushed them to come," says Ford ASEAN President Gerald Lania. Exports are so good, in fact, that Ford expects to work double shifts to reach its capacity of 100,000 and become profitable by yearend.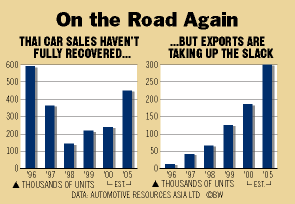 But to really make their Thai operations pay off, auto makers will have to find markets closer to home. This could happen if six Southeast Asian nations--Thailand, Indonesia, Singapore, Malaysia, the Philippines, and Brunei--live up to aggressive trade-liberalization commitments. Car tariffs now range from 20% in Indonesia to over 100% in Singapore. By 2002, they are supposed to drop to 5% or below. In effect, the six countries would constitute a market of 450 million people. That's the main reason BMW decided to go ahead with a $35 million luxury-sedan plant.
It's still unclear whether all countries will honor this pact. Malaysia already has hinted it won't lower tariffs that now protect national carmaker Proton. But so far, no other ASEAN country has said it will follow suit. In Indonesia, for example, plans to nurture national carmakers were dropped after President Suharto's downfall. As the crisis' aftershocks continue to reshape the region's auto industry, Thailand could turn out to be the biggest winner.
Before it's here, it's on the Bloomberg Terminal.
LEARN MORE