France: The Economy Takes No Breaks
By
France shows no signs of relinquishing its leadership role in the euro zone's economy. The Bank of France says the economy appears to be growing at an annual rate of about 3.6% in both the first and second quarters, close to the pace in the second half of last year. Private economists expect growth this year at the upper end of the government's 3.4% to 3.8% forecast range, led by both domestic and foreign demand.
Solid growth in domestic spending, especially by consumers, sets France apart from Germany, whose upturn so far is still rooted in improved foreign trade alone. First-quarter consumer outlays in France were exceptionally strong, partly reflecting cleanup efforts following the devastating December storms.
In turn, demand is fueling output gains. Industrial production rose a surprisingly strong 1.1% in February, and the BOF's latest monthly survey of 12,000 executives suggests further gains in March. Factories are posting an 86.4% rate of capacity utilization, the highest since June, 1998, possibly prompting businesses to invest in new plants and equipment.
An improving job market is the key to France's buoyancy. The economy generated 450,000 new jobs in 1999, and the government expects 500,000 more in 2000. The jobless rate fell close to an eight-year low of 10.2% in February from a postwar high of 12.6% in 1997. Economists expect it to fall to 9.5% by the end of the year, with further declines in 2001.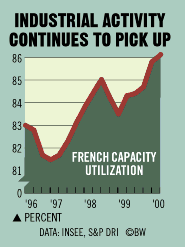 Moreover, the economy is easily capable of absorbing recent and expected interest-rate hikes by the European Central Bank, especially since fiscal policy has turned clearly stimulative. In the wake of last year's unexpectedly strong tax receipts, reflecting the economy's 2.7% growth rate, the government has decided to spend much of the windfall.
So far, France's inflation outlook remains benign, but added fiscal stimulus might also lead to further monetary tightening at a time when nascent recoveries in euro laggards, such as Germany and Italy, could least afford it.
Before it's here, it's on the Bloomberg Terminal.
LEARN MORE