Commentary: How To Bridge America's Digital Divide
by
The Information Highway has bypassed Tyronda Jordan's house. The 20-year-old mother of two struggles to make ends meet on a salary of less than $15,000 a year. After she has shelled out rent for her two-bedroom apartment on Chicago's southwest side, and paid for groceries, utilities, and the phone, she has barely $100 left. "I really would like a computer," she says, "but right now, I can't afford it."
If you glance at the headlines, it might appear that Jordan is among a shrinking few who don't have access to the Internet. Today, 43% of U.S. households have computers and Net access, up from 35% a year ago, according to new data from Forrester Research Inc. But the notorious "digital divide"--the gap between the country's technology haves and have-nots--isn't closing. Much of the gain in online penetration has occurred among the middle class. In households earning $50,000 to $74,999, for instance, penetration jumped from 47% in early 1999, to 62% this year. But households such as Jordan's, with incomes under $15,000, edged up just two points, to 11%.
As long as the divide remains, America falls short of its potential. That's why, on May 2, Jesse Jackson will hold a two-day event, called "Digital Connections," to kick off a project linking Silicon Valley's most powerful executives with citizens historically overlooked for tech jobs and business ventures. It comes on the heels of President Clinton's Apr. 17 tour of the tech-deficient Navajo Nation in Shiprock, N.M., and Plugged In, a community tech center in East Palo Alto, Calif. Closing the divide, Clinton told nearly 1,200 tech professionals gathered in Chicago on Apr. 18, "is good social policy. It's good personal ethics. But it's also very important for our continued economic expansion as a nation."
The President and Jackson deserve credit for drawing attention to the information gap, but their actions are only a starting point. This divide may never close without a relentless effort to catapult everyone--especially America's Tyronda Jordans--into cyberspace. The President recently proposed to Congress initiatives such as $2 billion in tax incentives for companies that donate computers and $150 million for teacher training, but Congress is jawboning these ideas while the digital revolution races forward. And though hundreds of companies say they'll participate, all the funds they and the government have pledged add up to less than one-fifth of the $50 billion the industry spends each year on employee training. "If we don't deal with this now, a generation of workers will be lost just when we need them most," says Carly Fiorina, CEO of Hewlett-Packard Co., which has committed $15 million to narrowing the gap.
Some government leaders get it. Maine Governor Angus S. King Jr. has proposed that $50 million of the state's $350 million budget surplus be used to buy laptops for every seventh grader in the state beginning in 2002. By 2007, King hopes to buy every junior high and high school student a PC. Some state lawmakers are opposed, but there's enough support to suggest that a revised initiative might ultimately pass.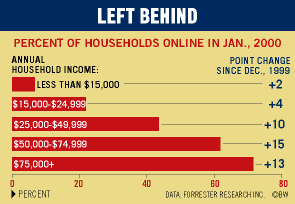 GRASS ROOTS. Still, government and corporate programs won't suffice. Before the Net is widely accepted by low-income urban users, it has to be marketed as something relevant to them. One technique is to bring technology to the street via a Web-on-Wheels, a marketing truck that trolls urban neighborhoods demonstrating Net gear and selling PCs. Urban dwellers respond more quickly to grass-roots efforts, whether they're a marketing truck, ad spots on urban radio stations, or local billboards.
Beyond marketing, what's missing is a pervasive effort to teach new Net users. One example: a partnership called "Places of Color." New York's DME Interactive Inc. and America Online Inc. are trying to sell Net service packaged with fun tutorials to 50 million urban dwellers. Not every inner-city cybernaut needs this, but if the tutorial is "soulful and relevant," says Marketing Director Jared Leake, the Net becomes less intimidating. That could help America's Tyronda Jordans tap into the Information Age.
Before it's here, it's on the Bloomberg Terminal.
LEARN MORE