Profits: Still Going Strong
Blue-chip tech companies remain robust
By
Nobody has ever called Sun Microsystems CEO Scott G. McNealy a pessimist. But even his bravado might have been tested by the recent stock swoon on the tech-heavy Nasdaq. Fat chance. "We're just getting rolling," McNearly told analysts as he announced Sun's 49% first-quarter earnings growth. The Internet boom isn't going away, he added: "We may be looking at the largest equipment business in the history of anything."
His enthusiasm seems well-founded. Throughout the technology sector, companies are reporting sales and profits far stronger than their volatile stocks might suggest. Intel, Lucent Technologies, and Apple Computer, for instance, have all announced rock-solid first-quarter results. The choicest startups, too, are surging ahead. Cobalt Networks, which sells specialty Internet servers, booked a 357% rise in first-quarter sales, to $12 million. "We're growing by leaps and bounds," says CEO Steven DeWitt. Such good news looks likely to continue. Overall, tech earnings are expected to rise 30% this year--almost twice as fast as nontech profits, says Chuck Hill, research director for First Call/Thomson Financials.
Sure, Alan Greenspan could throw a damper on that. But so far, interest-rate hikes by the Federal Reserve haven't made a dent in tech spending. Market researcher International Data Corp. still expects overall technology spending to climb at a brisk 9% annual clip for the next four years, to $1.2 trillion in 2003.
Credit the structural makeover unleashed by the Internet. To tap its vast new markets and cost-saving opportunities, "companies are going to spend what it takes," says Robert Cihra, an analyst at ING Barings. "It's too powerful a trend to stop."
Indeed, if high-tech's Big Scare on Wall Street proved anything, it's that technology, not hype, is king. When shares were tanking, venture capitalists quickly began advising CEOs of their portfolio companies to trim expenses such as advertising--but not to cut back on tech outlays. "That would be foolish," says Battery Ventures general partner Todd Dagres. Stock turmoil also isn't slowing the rise of companies delivering software and services "over the wire" to customers. These so-called application service providers will shell out $1 billion this year alone on new equipment, predicts researcher Cahners In-Stat. Dozens of other Net-service companies also are expanding their facilities with more state-of-the art gear.
Look no further than Digital Island Inc. The five-year-old San Francisco company runs data centers in 27 countries that help corporate customers keep their e-businesses humming. With a growing cohort of rivals, from Akamai to AT&T, Digital Island can't take its foot off the gas. "Our tech spending will continue," says CEO Ruann F. Ernst, who plans to expand Digital's base of 1,200 servers to 6,200 by 2003.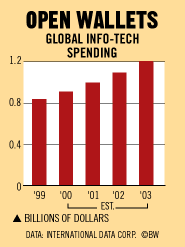 Even the PC business is looking rosier. After three years of brutal declines, prices are holding steady, and higher volumes should drive 10% revenue growth this year--the first double-digit increase since 1997, says Michael K. Kwatinetz, a principal at Azure Capital Partners. On Apr. 18, chipmaker Intel Corp. posted first-quarter profit growth of 37%, to $2.7 billion, on sales up 12.6%. Software giant Microsoft Corp. should see sales pick up sharply in the second half as more businesses adopt Windows 2000.
So what about Wall Street's roller-coaster week? With investors taking cover in stocks that promise solid earnings gains, it's hardly surprising that tech blue chips have become the defensive move of choice. But humbled dot-coms will have more trouble finding capital and face renewed pressure to show real profits. "Companies that don't have strong business plans are going to run out of cash and be out of business," says Meg Whitman, CEO of online auctioneer eBay Inc. For everyone else--party on.
Before it's here, it's on the Bloomberg Terminal.
LEARN MORE