Living Without That Hummer
Market turmoil may take a toll on discretionary spending
Peter Coy
With a portfolio of New Economy stocks that had tripled in 18 months, 33-year-old Internet entrepreneur Michael Sher was ready to enjoy the good life. He even put down a deposit to get on the six-month waiting list for an $80,000 BMW M5 sedan. But his appetite was spoiled when he lost half his paper wealth in the equity sell-off that climaxed on Apr. 14. And the two-session rebound that followed failed to calm his stomach. "I may not be buying the BMW," Sher, vice-president for business development at New York-based Internet Pictures Corp., said on Apr. 18. "I'm battening down the hatches. I'm much more sensitive to what my disposable income is now."
Could it be the beginning of the end for the wealth effect? After months of market turmoil that has sent many stocks tumbling to well below their highs, signs abound that Sher isn't alone in his newfound caution. If so, the huge spurt in consumer spending that's been fueled by outsized stock market gains could soon start to fizzle. Assuming stock prices don't start shooting up again, "within a few months, [the wealth effect is] no longer going to be stimulating consumer spending," argues Merrill Lynch & Co. chief economist Bruce Steinberg.
If Steinberg is right, that would be a big turnaround. In 1999, the value of U.S. stocks as measured by the Wilshire 5000 Total Market Index rose $2.9 trillion. Emboldened by their brawny brokerage statements, consumers probably increased their spending at a blistering 7.5% annual rate in the first quarter, resulting in a 6.5% surge in real gross domestic product, according to Merrill Lynch estimates.
That may be bad luck for investors such as Sher--but it's good luck for an overall economy which is dangerously close to overheating. A slowdown in demand would reduce the likelihood that inflation will resurge, making Federal Reserve Chairman Alan Greenspan's job far easier. The core rate of consumer price inflation, excluding food and energy, rose 0.4% in March, raising the specter that inflation is back in a big way.
But just as the first sign of inflation has popped up, the wealth effect may be receding. So far this year, through Apr. 19, the total value of U.S. stocks has fallen by about $500 billion. On top of that, stock prices have been highly volatile, leaving many investors more cautious about spending than if they were sitting on a secure nest egg.
BROKEN VOWS. For some, that means reconsidering spending plans. Michelle Howard, a 33-year-old derivatives trader, says she's postponing renovations on the kitchen in her co-op apartment in Westchester County, N.Y., after big losses on stocks such as Martha Stewart Living Omnimedia. And Anthony J. D'Aria, a New York financial adviser whose own portfolio got bombed, says he is retrenching after a year of living large that included spending $18,000 on an engagement ring. "Those $5,000 or $6,000 vacations are done for awhile," says D'Aria.
To be sure, consumers have been known to break their vows of self-denial. Goldman, Sachs & Co. chief economist William C. Dudley points out that stock wealth as measured by the Wilshire 5000 is still up 23% over the past year through Apr. 19.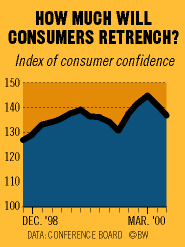 So some investors may decide they're still pretty rich after all. "No one in my family's panicking," says Stephen A. Mucchetti, president of Scient, a San Francisco-based Web-site builder. He's going ahead with an expensive air-conditioning installation in a century-old house he owns. And David Ogilvy, a real estate agent in Greenwich, Conn., says he put a $7.5 million house on the market on Apr. 18. Within 20 minutes, he had four appointments to show it.
Still, there's a lot less froth in the market than there was a few months ago. And there are other signs that overexuberant consumers may finally be calming down. The Conference Board's consumer confidence index fell in February and March from its January record and is likely to fall again in April. A few agonizing sessions on Wall Street aren't about to turn Americans into puritanical savers. But the stock market's decline has probably reduced the chance that the wealth effect will heat the U.S. economy to a full boil.
Before it's here, it's on the Bloomberg Terminal.
LEARN MORE