Here's A Tech Play That Still Looks Solid
What's Jabil Circuit? Think Cisco, but cheaper
Sam Jaffe
Manufacturing isn't glamorous, right? Don't tell that to the fans of Jabil Circuit, the St. Petersburg (Fla.) manufacturer of printed-circuit boards for high-end computing and network products ranging from routers to notebook computers to medical gear. After climbing 140% from the beginning of 1999 to the tech-stock peak on Mar. 10, Jabil has retreated 28%, to around 32. But analysts argue that Jabil's business remains strong and its valuation more reasonable than many of its peers. Indeed, immediately after Jabil sank 6% in the Apr. 14 stock market rout, CIBC World markets analyst Michael Zimm boosted his recommendation on Jabil from "buy" to "strong buy."
Among Jabil's biggest customers are such industry leaders as Cisco Systems, Nortel Networks, Lucent Technologies, and Dell Computer. Eric Gomberg, an analyst at Thomas Weisel Partners, says that such brand-name companies rely on Jabil and other contract manufacturers because they "can bring a product to market more quickly and cost-efficiently. The outsourcing trend is the tailwind driving Jabil's growth."
Along with making circuit boards, Jabil (pronounced jay-bill) handles such tasks as leasing factories and handling complicated supply-chain management. Its sales, which reached $2 billion in 1999, have grown at a torrid 39% annual rate in the past five years. Its earnings gains have been even more breathtaking: Over the same half-decade, Jabil's profits have grown 58% a year, on average, and analysts think earnings will continue to increase about 30% annually over the next five years. Amy Lubas of SG Cowen Securities expects the company's revenues to soar 55% in 2000. "It's a problem most companies would love to have," she says.
Despite such heady growth, Jabil is valued more cheaply than many tech stocks. Its price-earnings ratio, based on estimated 2000 net income, is 42, roughly twice that of the Standard & Poor's 500-stock index and less than half that of Cisco, the Net infrastructure superstar. Its price-to-sales ratio, meanwhile, is a modest 2.4, less than half that of Lucent or Dell, and a mere fifteenth of Cisco's.
"FANTASTICALLY MANAGED." One possible reason why Jabil trails in valuations is its lower profit margins. Cisco boasts a gross profit margin of 65%, while Jabil manages just 11%. But Bear Stearns analyst Thomas Hopkins argues that when measured by return on assets and return on equity, Jabil looks better. Jabil's ROE is a strong 25%. While only slightly better than the 24.3% average ROE for the S&P 500 in 1999, it is about the same as Cisco's. And Jabil's closest rival, Solectron, had an ROE of just 16.7%. True, Jabil's 11.9% return on assets trails Cisco's by six percentage points. But it beats the average S&P 500 company's 9.9% and Solectron's 8.5%. "Jabil is fantastically managed," says Hopkins. "That's why they're able to get such a great return on capital."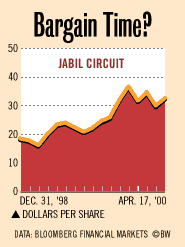 Another reason why Jabil has attracted loyal followers is the evolution of its business. Its design team, which a few years ago was more of a problem-solving operation, is now involved in the basic design of over 50% of the products Jabil makes. That adds to the value Jabil offers customers and also helps the company run more efficiently. Moreover, it's continuing to expand globally. Jabil recently bought a factory in Brazil, is purchasing space in China and Hungary, and is opening a facility in Mexico. "This company is producing the backbone of the Internet economy," says Gomberg. That's what analysts say about Cisco, too. Perhaps Jabil isn't as glamorous, but it is much more affordable--especially after the tech-stock rout.
Before it's here, it's on the Bloomberg Terminal.
LEARN MORE