For The Wnba, It's No Easy Layup
The league has passionate fans--and plenty of problems
by
America loves underdogs--especially ones with killer jump shots. Case in point: the struggling Women's National Basketball Assn. A throwback to the early days of professional sports, the league substitutes raw enthusiasm for testosterone. Players--some of them moms--are eager role models for kids. Sportsmanship, not attitude, rules the court. Tickets can be had without taking out a second mortgage. And when the WNBA tips off its fourth season on May 29, it will welcome four new teams into the fold.
Thanks to the nurturing and financial backing of its parent, the National Basketball Assn., the WNBA has become the best hope for women's team play in pro sports. It's the first startup league to land national TV exposure. It provides glitzy venues to showcase players' talent. And it has captured the hearts of communities and hard-core fans. "We are pioneers," says WNBA President Val Ackerman. "We are succeeding where many others have failed."
NICHE STATUS? So far. But here comes the full-court press. After three years, ticket sales and TV viewership are flat. Players are griping about low pay, and some are even leaving because of it. And though most corporate sponsors are renewing their contracts, others are bailing out, and newcomers are in short supply. Also, a possible legal threat is looming from the now-defunct women's American Basketball League, which went bankrupt in 1999 because it couldn't compete with the NBA's media and marketing clout.
With so many problems, can the WNBA break out of its niche status? Andy Appleby, CEO of Detroit-based General Sports & Entertainment, says: "What happens now is the hard part."
Player salaries could be the WNBA's Achilles' heel. With rookies starting at $26,500 a year plus benefits and some top draft picks earning as little as $56,000, the league is caught between the need to recruit talent with drawing power and the need to keep costs low enough to maintain $5 and $10 ticket prices. Detroit Shock superstar Jennifer Azzi, a 1996 Olympian and one of the sport's most influential players, stunned women's sports in March when she said she wouldn't return to the WNBA because of low pay. After earning about $200,000 a year at the ABL, Azzi made just $44,000 last year with the WNBA.
With sponsor ties and bonuses, a handful of WNBA players can earn six-figure incomes, but base salaries cap out at $80,000. Some top players are opting out of the WNBA for leagues in Europe and Australia, where salaries can top six figures. What's more, about 25% of the league's players aren't American citizens, and many will stay home this season to practice with their national teams for the 2000 Olympics in Sydney.
Meanwhile, many sports fans (read: men) are unimpressed with the women's quality of play. That means it might be difficult to broaden the league's viewership beyond its core base of women and children, who make up some 75% of ticket buyers and half its TV audience. And the level of play isn't likely to improve anytime soon. With players leaving and the league expanding from 12 to 16 teams this season, there might not be enough talent to fill the roster. "If you're treating your women as second-class citizens, paying them subsistence wages, what does that say about your commitment to women's sports?" says ABL co-founder Gary Cavalli.
The league seems unfazed and is, in fact, offering pay hikes from 5% to 10% this year. Still, with the opening of the season less than a month away, about a third of WNBA players haven't signed contracts.
Ackerman points out that it's imperative to strike a balance between attracting talent and holding down overhead. And she seems to be doing just that. While player-compensation costs have tripled since 1997--to about $11 million--as the number of players has doubled, the league might break even for the first time this year. Also on the upside, most existing blue-chip sponsors remain loyal, with Sears, L'Oreal, General Motors, Lady Foot Locker, and others returning for the 2000-2003 seasons. Industry experts put the value of national contracts at about $25 million over three years.
Still, there are dropouts. Lee Apparel tried to get out of its contract last season because the WNBA couldn't deliver the audience it promised. "We didn't get everything we expected to get for our investment," says President Gordon Harton.
The biggest uncertainty could be the threat of a lawsuit from the governing board of the ABL. Officials of the league, which emerged from bankruptcy on Apr. 1, say the NBA unfairly used its power in the marketplace to get TV networks and corporate sponsors to give preference to the WNBA. The NBA denies that.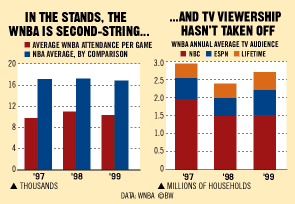 NBA MUSCLE. Yet not even NBA Commissioner David Stern, who in 1996 persuaded his owners to embrace a women's league, would pretend that the WNBA hasn't benefited from its origins. In fact, the NBA continues to put money into the WNBA, though Stern won't say how much. He will say that the WNBA is "probably the most successful startup in the history of professional sports."
Maybe, but does it have staying power? A lot of people think it had better, especially since there is more at stake than a league's survival. If the WNBA can't make it with the muscle of the NBA behind it, the chance of other women's leagues succeeding seems slim. Even the ABL's Cavalli has his fingers crossed. "I'm pulling for them," he says. "If the WNBA goes down, that'll be the end of it."
Before it's here, it's on the Bloomberg Terminal.
LEARN MORE