Euro Zone: The High Cost Of Defending The Euro
by
Just as has the U.S., the euro zone may see its monetary policy complicated by the recent stock market turmoil. Faced with a slumping currency and rising inflation, the European Central Bank must raise interest rates but at the risk of smaller economic gains in some nations at a time when falling equity prices may hurt consumption.
The ECB left its policy rate unchanged at 3.5% at its Apr. 13 meeting. That stance immediately raised the odds for a quarter-point hike at the Apr. 27 meeting. The bank must hike rates, partly to support the euro, which has been trading below par against the U.S. dollar since late January (chart). It has fallen against the yen and British sterling as well.
A smaller but related worry is the euro zone's rising inflation. Thanks to higher oil costs, the yearly consumer inflation rate in March hit 2.1%. And the euro zone's purchasing managers reported another rise in supply prices in March. But energy costs are now falling, so the ECB has said it believes that inflation for all of 2000 will end up below the 2% target. The falling euro, however, will push up inflation, since a weak currency raises import prices.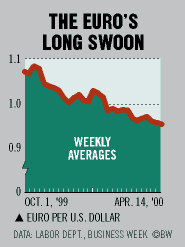 The ECB is also aware of the growth differences between the euro zone's 11 members. The European Commission forecasts that the euro zone economy will grow 3.4% in 2000, up from 2.3% in 1999. Private economists concur, but many think Germany and Italy--which produce about half of the euro zone's output--will grow below that pace, while France and smaller countries like Spain and Ireland will see growth of 4% or more. And the gyrations in the stock markets may hurt domestic consumption even before higher interest rates take hold. The major European equity markets have all fallen sharply since their peaks of early March.
Job growth is another problem. The unemployment rate has been slowly falling, but was a high 9.5% in February. Rising interest rates, which slow growth, will make it harder for more progress to be made on the labor front.
Before it's here, it's on the Bloomberg Terminal.
LEARN MORE