Can Lockheed Martin Pull Out Of Dry Dock?
The defense giant is counting on a new guy to stop the rot
Stan Crock
Louis R. Hughes knows all the Star Wars movies almost by heart, and the former General Motors Corp. executive says he has always loved "anything that has to do with space." So when aerospace giant Lockheed Martin Corp. asked him to become its president and chief operating officer, it was, he says, a dream come true.
To almost anyone else, it would probably look like a nightmare. When the 51-year-old Hughes walks into Lockheed Martin's Bethesda (Md.) headquarters on Apr. 27, he'll face challenges that would make a laser sword fight with Darth Vader look like child's play. A slumping satellite business, slack demand for military aircraft, a string of satellite-launch failures, and embarrassing quality-control snafus have all taken their toll. Sales slipped 3% last year, to $25.5 billion, while operating income dropped 20%, to $2 billion.
NO BENEFITS. Lockheed Martin's problems have been building for a long time. During the 1990s, former CEO Norman Augustine wowed Washington and investors alike with an ambitious acquisition binge during a period when the defense industry was rapidly consolidating. With multibillion-dollar deals to combine the old Martin Marietta with such names as Lockheed, Loral, and others, Augustine promised huge synergies.
But while the mergers produced savings as Lockheed Martin execs slashed overhead, the transactions created an unwieldy behemoth. The resulting management woes became evident once the dealmaking stopped. Making matters worse, the current chairman and CEO, Vance D. Coffman, faces a $12 billion debt load, and a 65% debt-to-capital ratio. Not surprisingly, investors have been jumping ship. Earlier this year, Lockheed Martin investors torpedoed its shares to 17, down from 43 a year earlier. The stock has since bounced back to around 21.
Enter Hughes, a former top-ranking General Motors man who knows all about running complex businesses. Hughes headed GM's international operations for most of the 1990s, helping to make GM Europe one of the carmaker's most profitable arms. He negotiated a crucial joint ventures with Toyota and oversaw GM's expansion into Eastern Europe.
Can Hughes work similar magic again? It'll be tough. The one bright spot is the Systems Integration business. It makes sophisticated electronics gear and ensures that all components of a combat system can "talk" to one another, an increasingly critical part of high-tech weaponry. At its Moorestown (N.J.) site, for example, the company uses the top half of a Navy warship sitting in a field near the New Jersey Turnpike to knit together entire combat systems, from radar to communications gear.
As other Lockheed Martin businesses fade, Systems Integration is becoming more and more crucial. In January, the Navy picked it to become lead integrator for a $4.3 billion aircraft carrier program--a deal worth an estimated $500 million for Lockheed Martin. Last year, the unit accounted for 43% of the company's sales and 48% of operating profits.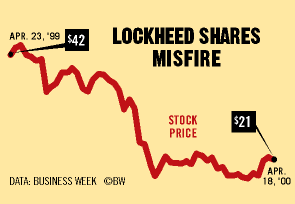 PEACE THREAT. But even with Systems Integration, Hughes has problems. Competition is heating up. Boeing Co. snagged a $1.6 billion contract to lead the Pentagon's missile-defense program. An even bigger threat is Lockheed Martin's own debt load. To raise cash to help pay down that burden, the company is selling off part of the Systems Integration unit. That move, while improving the balance sheet in the short term, has experts pondering Lockheed Martin's long-term strategy. "If they want a strong defense presence, it's less of a good idea," says Renee Gentry, senior defense industry analyst at Teal Group, a Fairfax (Va.) consulting company.
Now, investors and industry experts are hoping that Hughes can make the clear-sighted and cold assessments about which assets to sell and which to keep. Because that's what it's going to take. "GM was no exception, and Lockheed Martin is no exception," says Hughes. That "outside view" is just what's needed, says Anita M. Antenuccit, a managing director at Quarterdeck Investment Partners Inc., an investment bank.
But with mountains of debt and a piece of its crown jewel on the block, Lockheed Martin and Hughes had better hope the force is with them.
Before it's here, it's on the Bloomberg Terminal.
LEARN MORE