As Isolation Gives Way To Parties...A Tidy Gene Pool Pays Off Big
Justin Keay
According to legend, when Hrafna-Floki, a Norwegian Viking, gave Iceland its name in the 9th century, it wasn't just because of the ice but because he wanted to discourage settlers. He certainly succeeded: Today's population is just 270,000--in a land a bit bigger than Hungary. And since Icelanders became independent from Denmark in 1944, they have mostly gone their solitary way.
Well, the ice seems to be melting. Some Icelanders think the thaw started back in 1987, when the summit meeting between Russian leader Mikhail S. Gorbachev and U.S. President Ronald Reagan drew hordes of foreign journalists. Since then, Iceland has been opening to the world. Recently it has caught on as a chic destination for Western Europe's party-seeking youth. Icelanders are even warming to the notion of joining the European Union, after years of standoffishness.
$10 BEER. "This is a wild party, isn't it?" says Rita Schuhmacher, a young economist visiting from Germany's Saarland, as she stands at the bustling bar at Apotek, a new nightspot created out of an old pharmacy in Reykjavik's old town. The bar and club scene is a major departure for a country where beer was illegal until 1987. Now, many bars never close, especially in the summer--and with beer at $10 a glass, that's a smart move. Streets and sidewalks in the compact city center are still packed with revelers as Icelanders start their commute to work.
Reykjavik is bracing for even more young people this summer, when it will be one of nine European Cities of Culture. Skuli Helgason, a manager for Reykjavik 2000, the organizing group, is expecting 500,000 visitors, double last year's number. The influx will doubtless be boosted by the British low-cost airline Go, which on May 25 will break Icelandair's virtual monopoly on flights to Reykjavik. This year's events will include concerts by pop star Bjork, the most famous living Icelander, contemporary art exhibits, and public readings of old Icelandic legends.
Culture and leisure aren't the only realms opening up. Iceland's economy is slowly diversifying away from fish, which now accounts for only 45% of output, down from 59% in 1980. High tech and the service sector are the fastest-growing segments. And as the economy looks more modern, EU membership becomes conceivable. Although Prime Minister David Oddsson is opposed, his governing coalition and the opposition are both split on the subject. "Being a member of the European Economic Area [comprising Iceland, Norway, and Liechtenstein] has been fine for us trade-wise, but it gets a little lonely," says Mar Gudmundsson, chief economist at the central bank. His biggest concern is that high gross domestic product growth--at least 5% a year since 1996--and an insatiable consumer thirst for imports will push the trade deficit to more than 5% of GDP in 2000 for the third straight year. For some, Iceland's foreign debt burden may become an argument for staying detached after all.
Isolation has certainly been invaluable for deCODE Genetics Inc., which late last year was granted a government license to create a genetic database from the largely homogeneous population. The resulting research, derived from Icelanders' meticulously maintained family trees, should help uncover the genetic basis of disease. In 1998, the company signed a collaboration agreement with Swiss pharmaceutical giant Hoffmann-La Roche Inc., under which it will receive at least $200 million in exchange for its research.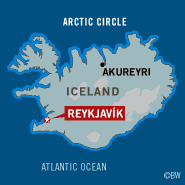 But many Icelanders are uneasy about the entire gene pool being in the hands of one company and fear the data could be used by insurance companies and employers against individuals whose genes are found to be defective. DeCODE dismisses such concerns, and they haven't stunted the company's growth. Its founder, former Harvard University professor Kari Stefansson, started deCODE with seed capital of $12 million in 1996. Its shares leaped after the government gave it the license, making it Iceland's largest company. In mid-March it filed a $200 million prospectus for a Nasdaq listing that would make Stefansson the country's richest man. He should offer up a prayer of thanks to that clever old Viking, Hrafna-Floki.
Before it's here, it's on the Bloomberg Terminal.
LEARN MORE