Fighting To Save An Old Style Brew...And Bringing In The Next Generation
William Echikson
It doesn't look like a beer mecca. The Cantillon Brewery is located in a downtrodden Brussels neighborhood behind the Gare du Midi train station. Its red-brick facade is fading. Inside, the chilly cellars lined with dusty oak barrels and empty bottles, straight out of another century. "Welcome to the home of the dinosaurs," says master brewer Jean-Pierre Van Roy.
The wiry, intense, 58-year-old Van Roy is fighting changing tastes and big multinational brewers to avoid extinction for a style of beermaking called lambic. This is the beer being served in pitchers to partying villagers four centuries ago in the paintings of Brueghel. Lambic is brewed with wild yeast, which ferments spontaneously in an open cooler. "No other commercially brewed beer can trace its history back so far, nor has any changed so little in its production process," says Michael Jackson, author of The Great Beers of Belgium. The result is a product that looks, smells, and tastes more like a bitter champagne, though it doesn't have bubbles, and its alcohol content of 5% is much lower. "The biggest difference between me and a winemaker is that he uses grapes and I use cereal," says Van Roy. When old and young lambics are mixed, the result is a product called gueze. Often, too, cherries, raspberries, and other fruits are added, producing concoctions called kriek and frambozen.
A century ago, Brussels boasted 100 family-run producers of lambic. Today, Cantillon is the only one left, although a couple more continue to struggle in the countryside. In 1970, Van Roy's father-in-law--the second generation to own the brewery since its founding in 1900--told him he was retiring. Sales were already plummeting. Van Roy quit his job as a marketer of records at Philips Electronics to try to save the family company. "Everybody thought I was crazy," he recalls. But he turned Cantillon around: The brewery sold $325,000 worth of lambic last year, up 20% from five years ago, and ekes out a profit.
Cantillon's recipe is expensive to follow and-- in an age favoring simple, sweet beers--out of fashion. Van Roy ferments his unpasteurized beer in costly wooden barrels for a full three years before bottling. Most other beers are brewed in days. "You need to be a connoisseur to appreciate Cantillon," says beer specialist Jackson. "It has a bitter, aggressive taste to many."
IMPOSSIBLE. While Van Roy has stuck to the old ways, the rest of Belgian brewing has moved on. Interbrew, which makes Stella Artois, Abbaye de Leffe, and Hoegaarden, among others, now produces 58% of all the beer brewed in Belgium, selling $2.8 billion worth last year. Along with Scottish & Newcastle, which owns Alken Maes, Interbrew has powerful leverage over Belgian cafes and restaurants. "It's almost impossible to get a cafe to carry my beer," Van Roy complains.
Interbrew even dominates the sales of lambic and kriek, producing 70% of the country's 230,000 hectoliters annually. In 1991, Van Roy sued Interbrew and seven other big brewers, arguing that they should not be able to label their sugared product lambic. But the next year, the Belgian parliament passed a law allowing the label. "It's scandalous," gripes Van Roy. "People now think that sugary concoction is the real thing."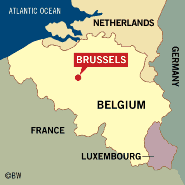 Even though he is up against heavy odds, Van Roy is not about to give up. His brewery won subsidies from the Brussels government in 1996 to create a visitors' center. Van Roy charges $3 for admission, tour, and taste. The brewery attracted more than 23,000 visitors last year and hopes to double that this year. Van Roy also has landed a contract with Belgian supermarket chain Delhaize to sell his lambic--and even lined up distributors in 11 countries. Exports accounted for almost 50% of sales last year. "Beer lovers outside Belgium seem to appreciate the product more than people here," laments Van Roy. But he's pleased that his 32-year-old son, Jean, has decided to join him at the brewery. "I want to ensure that the tradition continues," Jean says.
It's time for a taste. Van Roy pere places two wine glasses on a barrel, uses a corkscrew to open a bottle of lambic, and pours the champagne-colored liquid. I raise a glass to my nose, sniff, and swallow. It smells like slightly mildewed cereals but tastes like a fine wine. There's no doubt in my mind: This ancient brew should stick around for another millennium.