An Ipo For Tom But Maybe Not Dick Or Harry
The hype is over. Soon, only the solid Net offerings will survive
Timothy J. Mullaney
Rob LoCascio dreamed of a monster IPO as much as the next Web chief executive--but he had to take New York-based LivePerson Inc. public on Apr. 7, in the midst of a Nasdaq storm that roiled the market for initial stock offerings. So instead of seeing his offering's price zoom on the first day of trading from its initial 8, LivePerson's shares climbed to 11 before slipping to 8 1/16 on Apr. 12. LoCascio, whose company helps Web stores provide customer service, is philosophical. "We raised $32 million, and we're a public company," he says, "and no one can take that from us."
Welcome to the era of suddenly earthbound Internet IPOs. Don't blame it all on the recent harrowing drops in the Nasdaq Composite. The market has been getting tougher and less rewarding since early March. At least 26 of the 48 IPOs launched in the past four weeks now trade below their offering prices.
Still, deals are getting done. Fifteen IPOs were floated in the week ending Apr. 7, and 23 more were scheduled for the week of Apr. 14. A full 70 were scheduled for April, up from 59 in March and 33 in April, 1999. It's likely that some of the April deals will be delayed or canceled altogether.
In the latest turn of the market, IPO buyers are flocking to companies that have patented technologies and long-term customer contracts that insulate them from the need to spend heavily on marketing. Investors still don't demand to see earnings--this remains the Web, after all--but they want companies to show clearly how they will be profitable within a year or two. Kathleen S. Smith, who co-manages the IPO Plus Aftermarket Fund for Renaissance Capital Corp., says she's not biting unless she can see that the company has a shot at $100 million in revenue. Two companies that fit that bill, she says, are Beckham Technologies, which makes chips used to manufacture fiber-optic gear, and Saba Software Inc., which makes Web-based training software.
Who loses? Certainly e-tailers that spend more to buy products than they sell them for. That's the story of Pets.com Inc., which has drooped from 11 at its IPO earlier this year to 2 3/4 now. Companies that rely heavily on ad spending to attract customers are also out of favor. Furniture.com Inc., which registered to go public in January, is considering switching to a private offering. The e-tailer has suspended TV and radio ads, and has dropped its free delivery policy to trim its $46 million 1999 loss. The company hopes its 19% gross margins will convince Wall Street that Furniture.com is different from other e-tailers, says Don Goncalves, the company's investor-relations manager.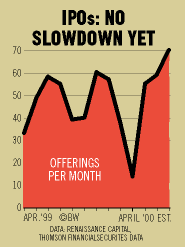 THIRD TIER. IPO investors have even cooled toward business-to-business companies. Until recently, they were considered can't-misses because they afforded customers the ability to slash overhead by moving purchasing online. But now, investors are paying more attention to B2B business plans. Morgan Stanley Dean Witter analyst Charles E. Phillips says Net companies that offer only a place to buy raw materials or office supplies is not enough. To succeed, they'll have to add higher-value services such as financing and logistics assistance. Safeguard Scientifics Inc., a successful B2B dealmaker, said on Apr. 10 it would stop making new investments in such companies. Its new focus: Web infrastructure such as telecom equipment and e-commerce software.
Infrastructure companies are not bulletproof, either. A company with a great technology may flounder under inept managers. Alberto Vilar, a veteran technology investor who runs Amerindo Investment Advisors Inc., notes that the best companies are usually those that go public early in an IPO boom. By this point, many seeking money are third-tier players. Even if IPO prices appear a little more reasonable, buyers need to be choosier than ever.