The Skytrain Is Flying High...But An Airport Is In A Holding Pattern
Carol Livingston
Oriental Hotel security guard Prasit Eakpan gazes down from his seat on the air-conditioned, squeaky-clean Skytrain at the lines of sedans, taxis, and trucks, belching black exhaust and honking their horns, that are stuck on Bangkok's Sukhumvit Road. "I feel sorry for the people in the cars," he says. "Now I take 30 minutes to get to work. On the bus it's an hour and a half."
He's not the only contented commuter. The dazzling white Skytrain cars began running on Dec. 5, gliding silently on electric rails for 18 hours a day, and already they've gone a long way toward quieting the project's countless critics. Bangkok is notorious for some of the worst traffic in the world, but it took the government 20 years to get the trains running, as the project was bedeviled by financial disasters and disputes over what kind of system should be built. Before the first pilings were sunk, critics complained that Skytrain's first routes would serve only a tiny, affluent portion of the city. Some still grumble that the $1.4 billion cost would have been better spent straightening out Bangkok's maze of narrow streets. Even after Bangkok Mass Transit PLC managed to finish the privately funded Skytrain, worries over its financial viability caused endless arguments over the fare structure.
But Skytrain's naysayers may be a dwindling minority. Not only are residents along the 25-station route overjoyed, but shopkeepers are bullish. "We've had 20% more customers," says Somphoj Chotisuwan, a senior manager at Tokyu Department Store in the Mah Boonkrong Shopping Center, near the junction of Skytrain's two lines.
BREAK EVEN. Business is booming at other stations, too. Skytrain's busiest stop is Mochit, where people flock to the famous Chatuchak market to bargain for everything from fighting cocks to Burmese antiques. Bangkok Transit System has already leased more than 80% of the commercial space on train platforms to such companies as 7-Eleven, Dunkin' Donuts, Bank of Asia, Watson's drugstores, and Thai Farmers Bank.
Of course, Skytrain's debut hasn't been without snafus. The automatic ticketing system proved cantankerous. Pollution is trapped on some streets by the overhead rail system. Ticket prices--from 25 cents to $1.05, based on journey length--are high for the average Thai worker. And while Skytrain has taken 40,000 cars, or 4% of the city's traffic, off the streets each day, some Bangkokians were disappointed that it didn't immediately cure all traffic woes. Detractors also point out that Skytrain's passenger load of 160,000 to 180,000 on weekdays and 200,000 on weekends is far from the 600,000 it needs to make money. Management counters that 600,000 passengers is a long-term goal and that Skytrain isn't scheduled to break even until its 15th year.
That hasn't deterred the Thai Cabinet, led by Prime Minister Chuan Leekpai, from deciding to extend Skytrain by 20 kilometers, almost doubling its length. The three extensions should be finished in 2005 and will cost $790 million. Given that the decision came on Feb. 29, just three months after the first Skytrain rolled--a lightning-fast move in Thai government terms--the powers that be seem to think Skytrain is heavenly indeed.
Thailand is moving forward on other infrastructure fronts. Work has finally started on New Bangkok International Airport, the city's second, which is scheduled to open in 2004. The project has been plagued by delays and allegations of corruption. Tourist arrivals in Thailand are rising by 8% to 10% annually, and Don Muang, Bangkok's current airport, soon won't be able to cope. All international flights and some domestic flights will be based at the new airport.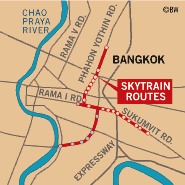 However, travel-industry watchers worry that the 34 million annual passenger capacity of the new airport and the fact that it may open with only one runway, mean that it won't be able to handle the 36 million passengers projected to fly into Thailand in 2007. Last year, Thai Airways International lost as much as $10 million in income after two major airlines shifted their hubs to Singapore. Any more shifts would be bad news for the tourist-dependent economy. "People are scared that Singapore will take over the business. This is not a good sign for us," says Rachani Singhalaksana, president of travel agency Four Trans. So in air transport as well as on the ground, Bangkok may have to keep racing just to catch up.