Thailand: Slouching Toward Recovery
by
The manufacturing sector is leading the recovery in Thailand, the first Asian country to topple into financial chaos in 1997, and one of the last to recover.
In the fourth quarter, Thailand's real gross domestic product was up 6.5% from a year ago. For all of 1999, real GDP rose a healthy 4.2%, following a 10% plunge in 1998 (chart). In the fourth quarter, manufacturing rose 15% from a year ago. Government spending was up 9.6%, consumer demand rose 8.6%, and exports jumped 17%. The rise in government spending has tipped the federal budget into a deficit for the first five months of the fiscal year. But with the private sector picking up, so should tax receipts.
The government expects real GDP growth of 4.4% for 2000, and the first-quarter data look solid. Industrial output in February grew 9.2% from a year ago. Also in February, exports shot up by 32%. The trade surplus shrank, though, because better domestic demand caused Thai imports to rise by 10%.
The recession plus a cut in the value-added tax last year has slowed down inflation. Thai consumer prices rose just 1.1% from a year ago in February, even with a jump in energy prices.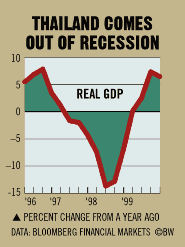 One big drag on the economy will be Thailand's floundering financial system, whose collapse helped to touch off the Asian crisis back in 1997. The Thai government has closed or seized about 70 banks and financial companies since 1997 (the latest on Mar. 20), nationalized others, and resold some to foreign banks. The financial sector shrank 19% in the fourth quarter. However, the financial restructuring may result in a favorable rise in the rating of Thailand's sovereign debt.
Although the coalition government has made inroads in reforming the financial sector, it is confronting a scandal of its own. The interior minister resigned on Mar. 22 for alleged financial improprieties. Although the stock market fell on the news, which spurred fears that early elections will be called before November, so far the scandal is not expected to short-circuit the Thai recovery.
Before it's here, it's on the Bloomberg Terminal.
LEARN MORE