Mattel: A Great Deal Of Re Assembly Required
An activist will help pick a new CEO--maybe even directors
By
Even as a teenager, Ralph V. Whitworth was a Mr. Fixit. Back then, he repaired broken appliances and, as a 19-year-old, helped overhaul the irrigation system in his hometown of Winnemuca, Nev. These days, Whitworth fixes broken companies. And in recent weeks, the shareholder-rights activist has been focusing his attention on troubled toymaker Mattel Inc.
By all accounts, it won't be a simple fix. Named to the toy company's 11-person board on Mar. 2, the 44-year-old Whitworth joins a deeply entrenched group of directors that two years ago rubber-stamped a $3.5 billion acquisition of The Learning Co., which saddled the company with roughly $300 million in losses. Moreover, sales have tapered off for Mattel's franchise properties, including its flagship Barbie dolls. And Mattel has been slow to tap the fast-growing Internet market. The pileup of problems led to the resignation of CEO Jill E. Barad on Feb. 2, and have sent the stock sliding 75% in two years.
Mattel's board only reluctantly invited Whitworth to join. Whitworth--who early in his career was a takeover artist with Texas oilman T. Boone Pickens--today heads investment fund Relational Investors LLC. Specializing in improving shareholder returns by shaking up troubled companies, Whitworth in 1998 overhauled the board of ailing Apria Healthcare Group Inc. and has used board seats to force change at electronics company Tektronix Inc. and trash hauler Waste Management Inc., among others. "Ralph understands bad situations better than anyone I know," says shareholder-rights advocate Nell Minow, publisher of The Corporate Library. "And he understands the process to get it changed better than anyone I know."
Indeed, Whitworth was lured to the boardroom to head off a potential proxy fight he planned to wage at Mattel's June 7 annual meeting. Backed by the giant California Public Employees' Retirement System, which has invested $500 million with Relational Investors, Whitworth also represented the interests of immense state-pension funds in Florida, Massachusetts, and Wisconsin. The four funds controlled more than 9% of Mattel's shares--enough under Mattel's bylaws to elect their own director, explains Sarah Teslik of the Council of Institutional Investors, a Washington-based association of pension funds.
Whitworth, who attended his first Mattel board meeting on Mar. 30, isn't saying what he hopes to do. However, he was a forceful supporter of the company's Apr. 3 decision to seek buyers for its troubled Learning Co. Those close to Whitworth say he'll push for changes, including cutting overhead and seeking joint ventures to help Mattel promote its stable of well-known toys on the Internet and as games.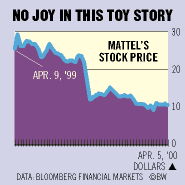 BARBIE BLUES. As a new member of the Mattel board's nominations and corporate-governance committee, Whitworth is also in a favorable position to push for board candidates who share his views. Moreover, Whitworth has been told that "less than highly regarded board members" may not be asked to remain on the board much longer, says Teslik. He will also have a say in the selection of a new chief executive, which could happen within the next 90 days. At least one top candidate, Walt Disney theme park chief Paul Pressler, is said to have taken himself out of the search, in part due to the unsettled board situation.
But finding a new CEO isn't the board's only problem. A California state appeals court has reinstated a suit brought by a former employee, who alleges she was wrongfully dismissed for uncovering accounting irregularities. Mattel, which refused to comment, also faces shareholder lawsuits over The Learning Company acquisition and the generous package it gave Barad when she resigned--including an estimated $8.5 million in salary and bonuses and forgiveness of a $4 million personal loan. All in all, plenty for an aggressive new director to dig into.