Did China Miss The Ipo Boat?
Now, the rush to Net startups is slowing
by
The timing stank: For months, the executives of Sina.com had pleaded with stubborn Beijing regulators to let their Chinese Internet portal raise capital in the U.S. by listing on Nasdaq. But the officials, determined to maintain their grip on the fledgling Internet industry, refused to budge. So Sina could only sit by helplessly as foreign investors shoveled money into rivals like Hong Kong's Chinadotcom Corp. and Pacific Century CyberWorks Ltd., which used their huge market values to snare deals and expand their franchises.
In late March, Beijing finally gave Sina the green light--and top executives immediately embarked on an overseas road show to promote the listing and raise some $70 million. "It's very encouraging after all the travails and trials," beamed Joseph Tzeng, managing director of Cleveland's Crystal Internet Venture Fund, which had helped supply Sina with seed capital.
But it may all be a case of too little, too late for Sina and numerous other Chinese dot-coms that have been waiting for a turn at the great Net money trough. Not only has the massive sell-off of U.S. technology stocks suddenly dampened market enthusiasm for Asian startups. Investors have also just gotten disturbing news from Beijing. As part of a deal with Sina, China's Information Industry Ministry imposed severe restrictions on overseas listings. Net companies must exclude their mainland Internet operations from any corporate entity they float abroad.
Behind the move: Beijing wants to keep its hands on strategic industries. "There is a lot of money to be made here," says Matt McGarvey of International Data Corp. in Hong Kong, and Beijing leaders "don't want to lose it" to foreigners. Besides, recent venture capital conferences such as one in Beijing, which was jammed with financiers, seemed proof positive that investors are so infatuated with the Chinese Net that Beijing can call the rules as it sees fit.
But if the current stampede out of tech stocks proves to be the end of the Net bubble, Beijing may come to rue its high-handed behavior. Many Asian dot-coms face more daunting challenges in living up to their hype than do many of the U.S. highfliers now getting pummeled on Nasdaq. Whereas companies such as TheStreet.com already have established important franchises that produce revenue, most of Asia's hot Net players have barely launched a business. Now, the brazen meddling by Beijing has reminded investors that China-linked Net outfits carry the added burden of considerable political risk.
APRIL SWOON. Thus, a reality check is well under way. The 13% drop that took place between Mar. 24 and Mar. 31 in Hong Kong's new Growth Enterprise Market (GEM)--where many Chinese dot-coms are listed--was steeper than Nasdaq's swoon (chart). In the first two trading days of April, when the markets were absorbing the news of Microsoft Corp.'s legal setbacks, the GEM plunged a further 25%.
China plays have been among the hardest hit in Asia. Chinadotcom, backed by America Online Inc. and by Beijing's official Xinhua news agency was a resounding success when it listed on Nasdaq last year. But it saw its stock drop by 40% in three days--and by more than 60% since mid-February. The damage has spread to Hong Kong's Internet ventures, which need to succeed in China if they are to live up to investors' expectations. Pacific Century CyberWorks, the Net flagship of Richard Li that recently made a successful bid for Cable & Wireless HKT Ltd., has lost some $17 billion in market capitalization since mid-February. Tom.com Ltd., the bare-bones portal launched by Richard's billionaire dad, Li Ka-shing, also is 50% off its high since going public last month. Another victim is SuNeVision, a dot-com backed by Hong Kong's wealthy Kwok family. Much more than Nasdaq backlash is at work. The main reason for the retrenchment, says one contemptuous Hong Kong stock analyst, is that many of Greater China's dot-com stars are "B.S. companies."
Such sentiment will make life especially hard for initial public offerings from China, where companies must restructure their businesses and leave some prized assets out of the publicly listed vehicles. Consider Sina and Netease.com, a popular portal run by entrepreneur William Ding that wants to float shares on Nasdaq. They must split themselves into two. The half that foreigners can buy into will be incorporated in a Caribbean tax haven. This entity will own the company's brand, proprietary software, and its content. Its revenue will derive largely from payments from the other half of the company, the Chinese half. This entity must remain in Chinese hands and keep the portal's licenses for operating a mainland Web site. The optimists hope none of this will matter. In its prospectus and road shows organized by Morgan Stanley Dean Witter, for example, Sina stresses that this bizarre structure isn't a problem. The U.S. unit, after all, will own most of the key intellectual property and get a share of the Chinese firm's earnings.
But to investors who are already fuzzy on how the promise of millions of Chinese Net users will actually pay off, it's a recipe for greater confusion. What's more, opaque policymaking makes it hard to predict Beijing's next move. Bureaucrats could do plenty more to affect the offshore-listed units, perhaps by putting new limits on the content and software Chinese Net firms can buy abroad. The rules do not provide "as clear a corporate structure as most investors would like," says Credit Suisse First Boston analyst Jay Chang.
NO-BRAINER. Don't expect China Net fever to disappear completely. Plenty of investors still seem willing to take the plunge. Just four months ago, some Shanghai entrepreneurs with Harvard University MBAs were able to raise $43 million from major U.S. venture capital firms and other investors for a stake in eTang.com, a second-tier portal that lags far behind Sina and Netease. The key selling point was simple, says eTang founder Haisong Tang: "China is big."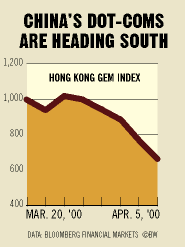 Yes, China is still big. And bulls point out there is a good chance that the environment could soon dramatically improve. As part of its deal with Washington to join the World Trade Organization, Beijing has promised to allow direct foreign investment in the Net sector, so rules that now hamper overseas listings may disappear. "With time, the regulations will be more clear, and there will be proper ownership structures," says Howard Chu, CEO of portal Myrice.com. If market upheaval continues, the question is whether investors will have the stamina to wait for the turn.
Before it's here, it's on the Bloomberg Terminal.
LEARN MORE