U.S.: So Far, Housing Is Shrugging Off The Rate Hikes
It's a key test of the Fed's drive to slow the economy
By
The Federal Reserve's pursuit of tighter financial conditions has resembled water torture in its small quarter-point hikes in interest rates. So how will we know when the drip-drip-drip finally starts to work? Keep an eye on housing. It's usually the first sector to crack.
Housing's best times may already be behind it. However, the sector continues to show surprising resilience, as activity remains at a very high level (charts). So far, it has not shown anywhere near the weakness that is typically associated with a Fed tightening cycle, an indication that several more drops of monetary torment will be needed in order to effect a broader economic slowdown. In fact, some builders might even welcome a less hectic pace of activity to help them cope with growing shortages of labor and materials.
Federal Reserve Chairman Alan Greenspan has made it clear that the Fed's goal is to slow overall demand in general and consumer spending in particular before inflationary pressures can seep into the system. To that end, housing will provide an important litmus test. First of all, the sector is extremely rate-sensitive, while the economy's fast-moving sectors of high tech and information gathering are largely unaffected by rates. Second, housing is a major direct and indirect source of jobs and economic growth, especially given its large secondary impact on consumer spending for furnishings, appliances, electronics, and textiles that go into a new home.
Moreover, housing is a key player in the wealth effect in two ways: For one, capital gains from stock prices are helping to power home demand, making it more difficult for higher interest rates alone to cool off housing. And second, the strong housing market is creating its own share of the wealth effect by pumping up the value of existing homes. Homeowners have tapped that capital gain by either refinancing their mortgages or taking out home-equity loans.
THE MOST RECENT NUMBERS on new- and existing-home sales as well as the latest survey on housing market conditions suggest that demand peaked in 1999, but that it is slipping lower only slowly. Existing-home sales jumped 6.7% in February, to an annual rate of 4.75 million. But that followed a 13.4% drop in January. Home resales for the past two months were down 10% from their pace of a year ago. However, some of that slowdown may well reflect a record low inventory.
New-home sales are holding up well. They dipped 0.5% in February, to an annual rate of 919,000, but January buying was revised up sharply, and sales this year are running ahead of a year ago.
Demand is sure to soften, though, as further increases in mortgage rates and home prices push ownership out of reach for some consumers. The average 30-year mortgage rate has jumped to 8.27% in mid-March from 7.04% a year earlier. And growth in average new-home prices crept back into double-digit territory in late 1999. A year ago, homebuyers needed, on average, to earn about $53,000 to qualify for a mortgage to buy the average new house. Now, they need close to $63,000.
Rising mortgage rates have also dented the outlook among builders. The National Association of Home Builders' housing market index took a big drop in March, as builders reported declines in current sales as well as in their expectations of future sales. The NAHB predicts that housing starts will fall 5% in 2000.
THE RECENT SLIPPAGE in demand, though, does not mean the Fed's job is done--not by a long shot. Mortgage applications to buy a home remain at very high levels, and housing starts are still near their record highs of early 1999. In fact, the 5% drop in starts expected by the NAHB would still mean that homebuilding will be stronger this year than in any time in the decade before 1998.
Housing has not yet cracked because higher mortgage rates are only one factor in determining housing affordability. Rising wealth from the stock market and very robust labor markets are enabling more Americans to buy homes. Buyers can hold down monthly mortgage costs by using gains from the stock market to increase their down payments.
Moreover, people are buying more expensive homes. In the past three months, the average new-home price is up 7.6% from a year ago, but the median price has risen only 4.3%, implying that high-priced homes are skewing the average price. The ratio of the average price to the median price has shot up dramatically during the past year.
A steady decline in consumer confidence would help to cool off the housing market a bit. The Conference Board's index of consumer confidence dropped a larger-than-expected 4 points in March, to 136.7. The spike in oil prices and volatility in the stock market contributed to the falloff (chart).
However, given the Mar. 28 OPEC agreement to boost crude production, along with the late March rebound in stock prices, household optimism may well bounce back in April. More importantly, a record 52.7% of consumers consider jobs plentiful. If consumers feel secure about their job prospects, they are more likely to take on the financial commitment of homeownership.
IF THE FED DOES SUCCEED in cooling off homebuilding, some developers may not be that upset. Labor shortages and rising materials costs are making it difficult to conduct business and make a profit. The Fed's March Beige Book reported that these problems are cropping up in many regions, and the NAHB says its members are concerned about the shortages of labor and materials as well as land.
Faced with a growing need for skilled craftsmen, construction companies are boosting their pay scales. Hourly wages in the construction industry have been accelerating since early 1999. In February, pay increased 4.3% from a year ago, compared with a 2.7% advance in February, 1999. Nonfarm wages as a whole grew at an annual pace of 3.6% in February, about the same as a year earlier. And construction pay, at an average $17.55 per hour, stands far above the $14.20 earned each hour by factory workers and the $13 for the average service employee.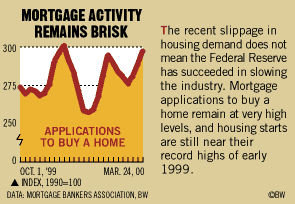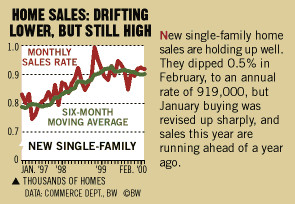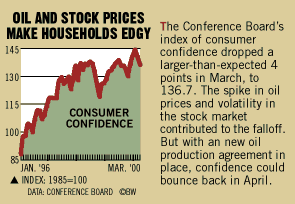 Materials costs are not rising nearly as quickly as labor is. Producer prices for construction materials are up 2.4% from a year ago, but that's a steep acceleration from the 0.6% gain in the 12 months before that. And much larger increases have occurred in some metal products, plastic components, hardwood, and gypsum.
By its interest-sensitive nature and its broad economic impact, housing has typically been the Fed's whipping boy in its efforts to tame an overly rambunctious economy. This time should be no different. But housing's resilience, so far, strongly suggests that the Fed will have to use a firmer hand in coming months.