The Oil Patch Plays It Safe
Companies aren't rushing to spend on exploration
Stephanie Anderson Forest
OPEC's decision on Mar. 28 to raise production by a mere 1.4 million barrels a day all but assures that supplies will remain tight and crude oil prices will remain strong for the rest of the year. And $20- to $25-a-barrel crude means oil companies will be swimming in profits in 2000. According to First Call/Thompson Financial, analysts expect earnings at major oil companies to jump 52% this year over 1999.
But don't expect a big jump in global capital spending on exploration and production. It is expected to rise only 10%-15%, to $86, billion over last year's depressed levels. And though some 768 drilling oil rigs in the U.S. are currently active--a 53% hike over a year ago--that remains well below the highs of a decade ago. In the past, "whenever prices have gone up...and been sustained like they have been in recent months, you've seen a comparable increase in E&P," says Victor A. Burk of Arthur Andersen's energy industry services in Houston. "But you're not seeing that this time around."
What gives? For one thing, after a recent round of consolidation, companies like Exxon Mobil Corp. are focusing on reining in costs and digesting the merger. More important, most doubt oil prices will remain above $20 long term. Analysts say companies now make investment decisions based on $15 to $18. Royal/Dutch Shell is even more conservative. Chairman Mark Moody-Stuart says he'll only do projects that will "fly at $14 a barrel" and let them "sleep easy in our beds at $10."
Such caution is warranted: When prices soared above $20 a barrel in 1997, companies ramped up their exploration efforts, only to suffer when prices plunged to $10 in December, 1998. "The industry has learned a very difficult lesson and that is you don't lose focus and you don't move budgets because you see a swing in oil prices," says Thomas R. Henkel, vice-president of investor relations at Conoco Inc., which is raising its budget 15% to $2.2 billion this year.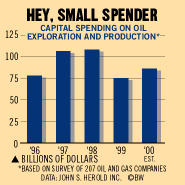 FISCAL DISCIPLINE. Indeed, these days most in the industry prefer to sacrifice long-term volume growth for higher returns. Chevron, for example, says it's aiming for a return of 12% on capital it employs in each of the next three years, vs. 10.2% in 1999. The goal of the financial restraint: winning back shareholders who've fled in droves. "Oil companies have to look for the business model that will capture the most investor attention--and it's not drilling more dry holes," says Joseph A. Stanislaw, president of Cambridge Energy Research Associates. That's one reason why Texaco Inc. and others have also begun buying back stock.
If supplies remain tight, will the fiscal discipline last? Analysts believe that as companies become more comfortable with their newfound riches, they'll boost exploration spending sooner or later. "If they don't reinvest in their upstream business, they go out of business," says Salomon Smith Barney analyst Mark S. Urness. Let the drilling cautiously begin.