The Amateur Athletes Who Saved Indianapolis
Drawn by new sports facilities, they sparked urban revival
Skip Rozin
Mary Huggard recalls the last time the National Collegiate Athletic Assn. basketball finals hit Indianapolis--in March, 1997. She remembers the traffic jams, the crowds, the impromptu gatherings of alumni, and especially those foolhardy Minnesota fans, who sent one of their group bodysurfing on his back, propelled by a hundred upraised hands, through the Pan Am Plaza. Amazingly enough, she's eager for more of the same.
"I love the excitement, danger and all," says Huggard, vice-president for communications at the Indianapolis Convention & Visitors Assn. "It gives the feeling of being in the capital of the world, and here we are in the middle of Indiana."
Turns out they've struck gold with amateur sports. Nearly 50,000 out-of-towners descended on the city for the Mar. 30-Apr. 3 finals of the NCAA basketball championships. If these fans are anything like the 48,000 who attended the Final Four in 1997, they emptied their pockets to the tune of $25 million.
"NAPTOWN." That's music to the city fathers' ears, of course. And it's a familiar refrain. Not only is this the fourth time Indianapolis has hosted the Final Four since 1980, but there also have been 48 other NCAA championship events and 12 Olympic trials--more than 400 amateur events in total, worth in excess of $1.18 billion, according to the city Chamber of Commerce. World championships for gymnastics and swimming are set for 2003 and 2004, respectively, and the Final Four returns in 2006. Not bad for a city that has long been derided as "Naptown" and "India-no-place."
Indeed, sports has added up to a powerful urban-renewal strategy here. Like many other U.S. cities, Indianapolis fell on hard times in the 1950s and '60s, when suburbia's siren call sucked people and tax dollars from city centers. "I could have shot a cannon down Market Street after 5:30 and hit nobody," says Republican Senator Richard G. Lugar, who was mayor from 1968 to 1975.
In 1970, the city annexed nearly all of surrounding Marion County, and the population jumped from 476,000 to 737,000. That brought in much-needed tax revenue, but the city was looking for more.
GOLDEN CHANCE. Enter amateur sports. In 1978, Congress passed the Amateur Athletics Act, which necessitated the creation of national governing bodies for amateur sports--and Indianapolis saw its chance. "We concluded that there had to be 35 or so new national corporations, nice, clean, pollution-free industries with boards of directors who were influential from around the country, that would have to exist somewhere," says Theodore R. Boehm, now a state Supreme Court justice but then a young lawyer at the prominent Indianapolis firm of Baker & Daniels.
Boehm and others, including former Lugar chief of staff James T. Morris, were instrumental in the creation of the Indiana Sports Corp., a nonprofit group set up to court amateur sports. In 1979, the ISC, with Boehm as chairman, enticed the newly formed USA Track & Field to put its headquarters in Indianapolis. Gymnastics followed, then diving, rowing, and synchronized swimming, until the city was home to the biggest collection of governing bodies outside of Colorado Springs, Colo., home of the U.S. Olympic Committee.
Part of the inducement was $384 million worth of new facilities: From 1979 to 1984, the Indianapolis Tennis Center, the multipool Natatorium of IUPUI (Indiana University-Purdue University at Indianapolis), the Michael A. Carroll Track & Soccer Stadium, the Major Taylor Velodrome for bicycle racing, and the Hoosier Dome (now the RCA Dome) opened for business. Other facilities followed, for soccer, skating, baseball, and basketball. And the events came.
SERIOUS PHILANTHROPY. Plenty of public money was used, but all the building might not have occurred without the support of Lilly Endowment. Set up in 1937 by the family that founded pharmaceuticals giant Eli Lilly & Co., the $15.8 billion fund has given $65 million to the city's sports effort to date.
It has turned out to be a wise investment. Amateur sports have created more than 500 jobs since 1977--including those at the new downtown headquarters of the NCAA, which last year left Overland Park, Kan., after 48 years, bringing 320 jobs, a $17 million payroll, and a just-opened Hall of Champions museum. And sports have helped make the city a desirable place to set up business. Witness the $800 million United Airlines Inc. maintenance center, a 2.6 million-square-foot facility, completed in 1997, that now employs 7,500 people.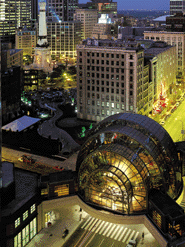 From the beginning, reviving downtown was a key element of the sports campaign. "We precisely didn't want to build a Pontiac [Mich.] Silverdome way out in a cornfield, where it would have been cheaper but done nothing to counteract the pull of suburbanization, which resulted in the hollowing out of city after city," says William H. Hudnut III, who helped coordinate the effort as mayor from 1976 to 1991. Hudnut is now a senior fellow at the Urban Land Institute in Washington.
It worked. The Convention & Visitors Assn. anticipates $304 million in revenues from special events in 2000. And today, downtown gyrates with activity all year long. Shoppers jam into the Circle Centre mall, while the eight-story Artsgarden offers performance and exhibition space for artists. Free outdoor concerts fill summer weekends. The city's population is up to 813,670, 12th highest in the country.
A little bodysurfing, anyone?