Internet Phoning Isn't Just Talk Anymore
Telecoms are fighting for tech control--and market position
By
Telecom giants have long scoffed at the idea of phone calls over the Internet. Bell Atlantic Corp. tested the technology in a secret trial back in 1995 and decided it didn't have much of a future. Sure, Internet calls were free. But the clumsy programs required users to take turns talking, walkie-talkie style. "At that time, we concluded it wasn't much of a threat because of the quality issues," says Laura Elias, a senior technical adviser at Bell Atlantic.
Five years later, the Internet is poised to turn the 123-year-old international telephone network upside down. The latest evidence: BUSINESS WEEK has learned that AT&T is close to a deal in which it, and possibly others, will pay about $1 billion for a major stake in Internet phone pioneer Net2Phone Inc. AT&T will buy part of the equity from IDT Corp., which now holds a 58% voting stake in Net2Phone. America Online Inc. and British Telecommunications PLC are also expected to invest in Net2Phone. "Every year we have been saying this is the year it will take off," said Novell Inc. Vice-President Monty Sharma at a Silicon Valley conference on Net telephony on Mar. 28. "Now, it's going to happen."
CISCO RISING. The Net2Phone deal is simply the latest evidence that Internet calling is coming of age. Bell Atlantic has begun selling service to certain customers. Giants Lucent Technologies Inc. and Nortel Networks Corp. have already installed systems for hundreds of corporations. On Mar. 27, Cisco Systems Inc. unveiled rival equipment, causing Wall Street briefly to bump its market value above even Microsoft Corp.'s. With hopes of huge savings in long-distance phone costs, customers are signing up. Merrill Lynch & Co., for example, plans to install 5,000 Internet phones from Cisco and Lucent at a site in New Jersey.
The fight for Net2Phone shows how seriously the technology is being taken. AOL had originally hoped to cut a deal for control of the company. But IDT executives had second thoughts. The reason? If AOL took control of Net2Phone, rivals Microsoft and Yahoo! Inc. might be reluctant to use Net2Phone's technology. So Howard S. Jonas, IDT's chief executive, called cable mogul John C. Malone, who sits on AT&T's board. Jonas asked Malone if he could help.
He could. Malone convinced AT&T CEO C. Michael Armstrong that Net2Phone would fit perfectly with AT&T's push to provide Internet telephone service and Internet access over cable-TV networks. Jonas didn't want to give AT&T complete control, so AT&T and its partners are expected to buy 60% of IDT's stake in the company. As of Mar. 29, a Net2Phone board committee had yet to approve the deal. Malone and Jonas also worked together to keep AOL in the deal. That was critical because Net2Phone wanted access to AOL's 22 million subscribers. Deals with Yahoo and Microsoft are expected.
But if there's plenty of potential in this market, there's also danger. The Internet technology from Net2Phone and competitors could drive the price of a phone call to zero, posing a challenge to telecom carriers. For instance, Concert, a joint venture of AT&T and British Telecom, increasingly uses the Net to find the cheapest international calling routes for the 90 phone companies that belong to the company's telecom clearinghouse.
For now, global revenue from Internet voice traffic is tiny--about $600 million in 1999, compared with the world's $650 billion traditional voice market. The telcos argue that the new technology will cut only gradually into their market and that they will make up the loss of phone business with Net access fees.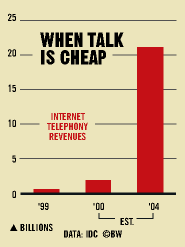 But developments such as the Net2Phone deal will speed things up. Its technology will allow companies like florist FTD Inc. to put "click-to-talk" buttons on their Web sites. AT&T plans to market the same capability to its corporate customers, while boosting quality and ease of use. "In my five years at Cisco, I have never seen as much excitement as I have seen over [Net] telephony," says Marthin DeBeer, head of marketing for Cisco's Net telephone products.
This time, it looks as if that excitement will turn into a real market. After all, AT&T and Armstrong seem to be betting $1 billion that it's true.