Get Those Files Out Of Here
StorageNetworks is betting that off-site data will catch on big
Norm Alster
The paperless office promised an end to the ceaseless expansion of file cabinets. But the electronic workplace has created another file cabinet problem: the massive banks of storage equipment that now house corporate data. Data storage needs are growing at an astonishing 80% annual clip, according to International Data Corp. That's a boon to equipment suppliers, such as storage market leader EMC Corp. But it can snowball into a problem for the companies they supply.
Enter Peter W. Bell. The EMC alumnus and chief executive of StorageNetworks Inc. has come up with an approach that could shake up the $34 billion storage industry. Bell's solution? Leave the disk-driving to us. StorageNetworks is proposing to sell storage to corporations as a service, instead of a product they must buy and manage.
How does it work? A company pays StorageNetworks about $50,000 per month for 1 terabyte of storage space--that's the digital equivalent of some 60,000 file cabinets. The customer's computer data would reside in one of StorageNetworks' 50 data centers, and the customer could tap into the information instantaneously over a high-speed fiber-optic line between its offices and the nearest data facility.
The idea of "storage as service" is an enticing one. Compaq, IBM, and Hewlett-Packard are experimenting with similar offerings. "It's going to be a tremendous area of growth," says Howard Elias, vice-president and general manager of the Compaq Storage Products Div.
The shift in the industry is putting the heat on EMC and other storage-equipment makers. EMC CEO Michael C. Ruettgers has decided not to enter the storage-as-service business, dismissing it as a threat, since StorageNetworks buys its equipment from EMC. Bell, however, insists there is a risk to EMC. "They lose that account control," says Bell. That's important because EMC could end up getting less feedback from storage users, which could hurt its ability to develop cutting-edge products. More important, StorageNetworks at any point could switch its business to IBM or one of EMC's other rivals. "At some point if this thing took off, EMC would have to make a decision about being a storage utility," says senior analyst Doug Chandler of market researcher IDC.
"PRIME POSITION." In the race to offer storage on demand, Bell is a step ahead of the pack. Investors, including Dell Computer Corp. and Global Crossing Ltd., have poured $200 million into the Waltham (Mass.) startup. StorageNetworks, which lost $22.6 million on revenues of $6 million last year, just registered for an initial public offering to raise an additional $270 million. They're in a "prime position to dominate the [storage service] market," says analyst Steve Duplessie of market researcher Enterprise Storage Group. Bell plans to spend $700 million to complete his network of 50 data centers, each of which will be capable of storing 100 terabytes of information.
StorageNetworks' prime targets are Internet companies, which tend to have huge storaghe Wistar Institute in Philadelphia for study. Now those same cells are the source of brain cells being transplanted into stroke patients in the hopes that some brain function will be restored.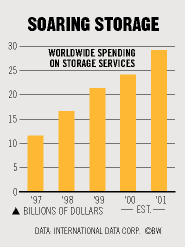 The tale begins in the late 1970s, when Peter W. Andrews, an Oxford-educated scientist, was at Philadelphia's Wistar Institute studying certain cancers known as teratocarcinomas: tumors consisting of embryonic-like cancer cells found in the reproductive system. These cells either continue to grow uncontrollably into Ruettgers is targeting the same set of customers because he thinks they will be big buyers of his storage gear. Indeed, EMC got $200 million of its revenues from Net companies in the fourth quarter. If Ruettgers sees StorageNetworks making progress with the clients he's targeting, he may have to shift gears. At that point, Bell may have more competition than he bargained for.