From Convenience Store To Online Behemoth?
Seven-Eleven pushes to sell a vast range of goods on the Net
Irene M. Kunii
At 67, CEO Toshifumi Suzuki has enjoyed a distinguished career as the retailing visionary who made Seven-Eleven Japan Co. the country's No. 1 convenience-store chain. But just when other execs would be winding down, Suzuki is gearing up for his next big challenge: to turn Seven-Eleven into an online shopping behemoth. In February, he gathered seven partners, including Sony, NEC, and Mitsui, the giant trading house, to develop e-commerce services ranging from book and ticket sales to online distribution of music and photos. By June, 7dream.com will be a reality. "With our large network of stores and distribution base, we're attracting powerful partners," Suzuki says proudly.
O.K., the strategy wasn't unique very long. True to Japanese tradition, most of Seven-Eleven's big rivals quickly announced similar plans to target Japan's small but growing Internet population, now more than 20 million. But Suzuki, who is also CEO of parent Ito-Yokado Co., a leading supermarket chain, thinks he can beat the competition. Any time now, he expects the government to let him set up a bank--making Seven-Eleven the first retailer to enter the sector since deregulation began in 1996. Suzuki wants the bank, to be named either Ito-Yokado or Seven-Eleven Bank, to be open by summer.
Forget about branch networks and teller windows. The bricks-and-mortar of this all-but-virtual operation will be the automated teller machines Suzuki starts installing in Japan's 8,200 Seven-Eleven outlets. Since most stores operate 24 hours a day, the ATMs will be among the first in the country to allow around-the-clock banking--and payment for online purchases. The machines are eventually expected to work as multimedia terminals that also accept orders.
Suzuki has long been a pioneer. In 1974 he opened the first konbini, as convenience stores are known in Japan. He was first to install an electronic inventory and sales system and to offer fast foods. In 1987, Seven-Eleven started accepting payments on behalf of utilities. Last year, it collected some $6 billion in such fees--earning commissions as well as increased traffic.
Innovation has made Seven-Eleven the rabbit everyone else has to chase. Indeed, Seven-Eleven Japan and Ito-Yokado now own 72% of 7-Eleven Inc., the original U.S. operation. Despite a sluggish economy, operating profit rose 16%, to $1.3 billion, in the year to February; total sales at the franchised shops were more than $17 billion. That ranks the chain Japan's No. 2 retailer--behind the Daiei supermarket empire but ahead of Ito-Yokado itself, which is No. 3.
SHORT TERM? Suzuki and his partners are putting $375 million into 7dream.com. The concept is simple: After placing orders on the Web, customers pick up and pay for them at any Seven-Eleven shop. Seven-Eleven attracts 2.6 billion customers yearly--a daily average of 950 per shop. And polls indicate that as many as 70% of Japanese dislike using credit cards for online purchases. "The Japanese would rather pick up their goods and pay for them at a konbini," observes Morihiko Ida, head of equities research at Century Securities. "So they could boost Net sales."
There's no guarantee the model will work. Konbini accounted for a tiny part of Japan's $3.2 billion in consumer e-commerce last year. And if the idea catches on, it may not last. "In the short term, they'll be major players because of their networks," says Hirokazu Ishii, analyst at Nikko Salomon Smith Barney in Tokyo. "But the Japanese will begin using electronic cash and home delivery, like Americans."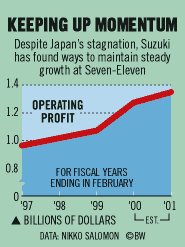 Maybe so. But Seven-Eleven's competitors certainly aren't waiting to find out. Lawson Products Inc., the No. 2 convenience store chain, now plans an e-commerce group, as do five other chains, led by third-ranked FamilyMart.
Still, Suzuki's allies, which include top media, travel, retail, and Net technology companies, give him an early lead. And while he has no plans to go into such activities as lending, he has drawn interest from a number of prominent institutions. Suzuki isn't betting the store on his new venture. But he thinks he has at least one more big coup left in him before taking it easy.