Where A School Day Is Also A Workday
Ann Therese Palmer
Thirty-one-year-old Leticia Aspera, married mother of three and an immigrant from Michoacan, Mexico, was worried about her oldest daughter, Leticia Corona, who was a freshman at Marie Curie High School on Chicago's southwest side. All summer, her daughter had dreamed about high school. But when classes started, "reality didn't match the dream at all," Aspera says. "It was a rough place." She recalls: "When I went for Leticia's report card, the teachers were rude, in a hurry, and didn't take time to explain what the grades meant." The mother worried about gangs and lax security, too. In November, young Leticia asked to transfer from the public high school to Cristo Rey Jesuit High School, a new Catholic school started by the Society of Jesus--the Jesuits--in the heart of Pilsen-Little Village, Chicago's Mexican-American community. It's a 90-minute, three-bus trip from Leticia's home in Pilsen, 6.4 kilometers southwest of the Loop.
How could Leticia and Antonio Corona, her husband, 33, also a Mexican immigrant, afford private-school tuition? She makes $23,000 as a secretary for the Chicago Health Dept. He earns about the same working as a mechanic. Besides food, there's the $700 monthly mortgage, a $600 car payment, and a $1,200 child-care bill for her two younger sons.
Private school seemed unaffordable. Then she learned about Cristo Rey's innovative program to help students like Leticia pay part of their tuition. Students work five days a month as entry-level clerks at 62 large law firms and corporations like Merrill Lynch & Co. and Arthur Andersen. They earn $5,000 for 10 months of work, reducing tuition to $2,200. The remainder of the $9,000 cost to educate a student is made up through $500,000 of annual corporate and individual gifts. "I was amazed we could afford it," says Aspera. Leticia started in November.
Her new school is actually an old school--what was St. Stephen's Grammar, at the corner of Cermak and Wolcott. Mexicans have been settling along Cermak Road, the main street of Pilsen-Little Village, since the late 1960s. A charmless avenue lined with dingy mom-and-pop stores, its four lanes are choked with buses and trucks rumbling back and forth from the steel plants and warehouses several blocks west.
St. Stephen's was built in 1921 by Lithuanian immigrants, but now its old bricks house 280 Mexican-American students. Cristo Rey is basically a prep school: 63% of the two classes that have graduated so far have gone to college, an astounding rate in a neighborhood where the public high-school dropout rate is 65%. The school is distinctive in other ways, too. Brightly colored Mexican-themed paintings line hallway walls. Boys wear shirts, ties, and dark pants. Girls wear dark pants or skirts with sweaters. They look like they are dressed for work--and one-quarter of them are.
Every day, these working students are bused to the Loop, 15 minutes away. Four students share one internship. They spend the day distributing mail, filing, or perhaps running messages. Leticia is a filing clerk at Mayer Brown & Platt, one of the city's largest law firms. "I've made friends with [a lot of] older people there," she says. "They give me advice." At Sidley & Austin, the first law firm to establish an internship, senior counsel Newton N. Minow, former Federal Communications Commission Chairman under President John F. Kennedy, is both encouraging and encouraged: "The kids have their feet in both worlds. It's one of the most hopeful signs for the future I've seen."
Initially, employers weren't sure how, with few business skills, the students would mesh with their staffs, but they've been surprised at how quickly the kids have learned. The four student-employees at John Buck Co., a leading Chicago real-estate development company, started by delivering mail but now audit supply levels. Says John A. Buck II, chairman and CEO: "Some of the students are so good that they relieve our receptionists and are the first contact our clients have with the company."
Though all the kids grew up speaking Spanish at home, one of the toughest classes at Cristo Rey is Spanish, with the focus on writing and literature. "I don't know how to read Spanish that well," confesses freshman Carlos Botello, 14. "There are a lot of new words and problems with where accents go. It's very hard, but it's worth it. It opens up opportunities. I will be able to go to college or work in a country [where they] speak Spanish or English."
Next door to the Spanish class, a group of 23 freshmen is in Active Learners, a study-skills program. The course was designed by four Cristo Rey language-arts and social-studies teachers after students balked at doing four hours of homework each night. "At their old schools, they told us, they'd gotten Ds without doing homework, in return for not causing trouble," recalls Rev. John P. Foley, the school's president, who spent 34 years teaching in Peruvian Jesuit schools.
So the teachers conceived a problem-solving class where students work in small groups, learning about habits like punctuality--essential for success in both classrooms and offices. To understand how to see different sides of an issue, students learn how to play chess and argue mock criminal cases; to build confidence, they take field trips to Wisconsin, where they scale a 17-meter boulder.
They're also taught basic workplace skills like how to smile and introduce themselves. "Due to cultural differences, students sometimes have a hard time speaking up and looking you in the eye," says Rosemary Croghan, daughter of an immigrant mother, who is chairman of the school's trustees and grandmother of 27. "We start with firm handshakes and how to ask for help. Those work both at [the office] and at school. We're trying to correlate the workplace with the school a lot more."
The idea for Chicago's first new Catholic school in 35 years came from the Jesuits' distress at the fact that the growing Latino population wasn't "mainstreaming into Catholic schools as prior immigrant groups had done," says the Reverend Bradley M. Schaeffer, a top Midwest regional Jesuit official at the time of the school's inception. Now president of the U.S. Jesuit Conference, he coordinates the religious order's U.S. schools.
Priests, seminarians, and college professors from Loyola University of Chicago, owned by the religious order, walked the streets for almost two years listening to people talk about their problems. Given the Jesuits' 450 years of experience in education, it was hardly surprising that a new school came up as Solution No.1. With "a couple of million dollars" in Jesuit funds and "a lot of prayers," within nine months, the Jesuits rehabilitated St. Stephen's (which had been slated for oblivion), devised a curriculum, and opened up. To be admitted, students need teacher recommendations and parental support. They agree to attend classes more than 10 months a year and learn in two languages, Spanish and English.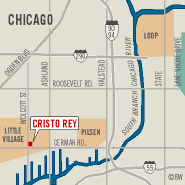 In September, 2001, when Cristo Rey's enrollment should reach its 500-student capacity, administrators expect to break even without donations. A $9.7 million, 23-classroom building addition opened on Jan. 24. So far, the project has cost $14 million, with money coming from individuals, foundations, and corporations.
The school is attracting visitors from near and far. Says the Reverend George J. Rassas, a pastor at Church of St. Mary in Lake Forest, Ill., who hopes to bring the concept to economically depressed Waukegan-North Chicago: "It's creative. The results are very measurable and visible." But more than that, to young Leticia Corona, Cristo Rey "is the way I'd dreamed high school would be."
Before it's here, it's on the Bloomberg Terminal.
LEARN MORE