U.S.: A Key Pressure Gauge Is In The Red Zone
The trade deficit can't absorb surging demand indefinitely
by
In recent years, the U.S. economy has enjoyed two important safety valves that have vented inflationary pressures in the face of potent demand. Now, there's a problem: Both of those valves are wide open, but the pressure is still building. That's why the Federal Reserve raised interest rates on Mar. 21 for the fifth time since June, 1999. More important, it's why more hikes are on the way.
The first buffer has been a much deeper pool of available labor than anyone had thought possible. But with the unemployment rate likely to go below 4% this year, almost no one either inside the Fed or out believes that the job markets can be stretched further without a reacceleration in wages and benefits.
A less highlighted, but equally critical, safety valve has been a growing dependence on foreign producers to satisfy the accelerating pace of demand. The result shows up as a sharply wider U.S. trade deficit, as imports have soared. The January trade deficit increased to a record $28 billion, from $24.6 billion in December. That gap, well above the $25.2 billion average in the fourth quarter, all but assures another widening in the first-quarter deficit.
Moreover, it means yet another increase in the broad current-account deficit, which includes both foreign trade as well as financial flows between the U.S. and its trading partners. But as Fed Chairman Alan Greenspan said in early March, "Growing net imports and a widening current-account deficit require ever larger portfolio and direct foreign investments in the U.S., an outcome that cannot continue without limit."
THAT LIMIT may soon be shattered. The current-account deficit rose to $99.8 billion in the fourth quarter, from $89.1 billion in the third. At an annual rate, that is equivalent to a record 4.2% of gross domestic product, and it may approach 5% this year (chart). Except maybe for Poland or Bulgaria, no country's current-account deficit is expected to exceed that level in 2000.
It's not just the trade gap that's causing the erosion. Because of the huge amount of foreign investment necessary to finance the gap between exports and imports, the U.S. is now paying out a record amount of investment income to foreigners. Up until two years ago, the U.S. balance of investment income (the amount foreigners pay stateside investors for investments made abroad minus what the U.S. pays out on foreigners' investments in America) was in the black, as it had been throughout the postwar era.
That balance is now in the red and deteriorating rapidly. In the fourth quarter, this deficit nearly doubled to $10.4 billion, from $5.3 billion in the third quarter, accounting for about half of the quarter's overall widening.
New foreign investment continued to flow into the U.S. at a strong pace in the fourth quarter. Moreover, that new foreign money is increasingly taking the form of highly mobile portfolio investment. Net foreign purchases of stocks and corporate bonds last year accounted for 43.4% of total foreign investment, matching the record set in 1998 and double the 22.7% mark in 1996. In the fourth quarter, net purchases of U.S. stocks hit a record $33.2 billion.
The point here is that the U.S. is increasingly vulnerable to a shift in foreign investment patterns. If, for whatever reason, foreigners become less inclined to invest in the U.S., that would weaken the dollar and put upward pressure on interest rates, which would undermine the Fed's attempt to keep inflation stable while bringing the economy in for a soft landing.
THE JANUARY TRADE DATA, however, brought no relief. Partly reflecting the highest oil prices since the Gulf war in 1990, imports of goods and services jumped 1.7% from December. Exports fell 1.8%. But that followed a 3.1% surge in December, and exports continue to recover from their post-Asia-crisis funk. Over the past year, exports are up a solid 8.2%, but imports have grown at more than twice that pace, up 19.3%.
Adjusted for inflation, however, some interesting trends emerge (chart). First, real oil imports have actually fallen over the past year. That trend suggests that pricier foreign oil is cutting into U.S. demand, and that domestic oil production is picking up.
Other, larger categories are pushing up the growth in real imports. Foreign-made capital goods, for instance, are rising at a 28% yearly clip, and economists will argue that financing a huge trade deficit that is dominated by imports of capital goods is not such a bad thing. That's because new investment lays the groundwork for the future income necessary to pay for those goods and their financing.
However, while imports of capital goods, especially high-tech gear, are soaring, imports of consumer goods are also accelerating, reflecting surging growth in household spending. A speedup in consumer-goods imports suggests that the U.S. is increasingly using foreign funds simply to finance current consumption which yields no future benefits and may eventually decrease the willingness of foreigners to invest in U.S. assets.
THE SAFETY VALVE from cheap imports is also losing some of its impact, even despite the dollar's continued strength. That's because import prices are no longer falling. Excluding oil's disproportionate impact, import prices in February increased 0.1% from a year ago. Only 18 months ago, nonoil import prices were falling a steep 4.2%. However, February's slim year-over-year advance was the first in four years.
Higher materials costs, even outside energy, are beginning to squeeze many companies. True, top-line inflation looks tame. Energy powered a 1% jump in producer prices of finished goods in February, but core prices, which exclude energy and food, increased only 0.3%, partly reflecting higher tobacco prices. However, core prices for intermediate goods are now rising much faster than core prices for finished goods, a sign that cost pressure on finished-goods producers is rising.
In addition, a few caution flags are waving around consumer prices. Energy also pushed them up in February, by a steep 0.5%, although core prices rose only 0.2%. Still, the devil is in the details. Housing costs are starting to show the impact of higher home prices and mortgage rates, and costs for medical care and education are both speeding up.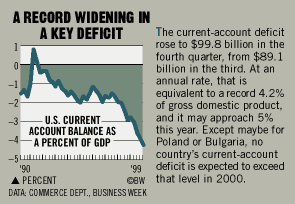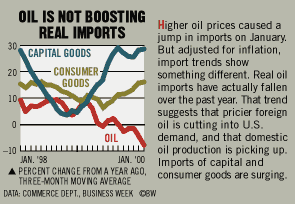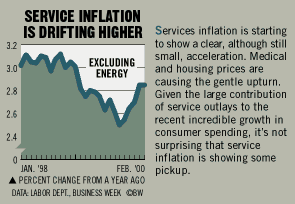 Services inflation generally is starting to show a clear, although still small, acceleration (chart). Given the large contribution of service outlays to the recent incredible growth in consumer spending, it's not surprising that service inflation is showing some pickup.
Indeed, that spending boom is undoubtedly creating an environment that may allow businesses to mark up prices. The Fed's latest move is an attempt to quell demand and dissipate that pricing power. But its hikes haven't had much impact. Demand continues to make claims on potential supply at a time when growing inflationary pressure has fewer and fewer ways to escape.
Before it's here, it's on the Bloomberg Terminal.
LEARN MORE