The Latest Chaebol Game Plan: Stalking Cyber Startups
Late to join Korea's New Economy, the conglomerates are quickly buying in
Moon Ihlwan
These days, Hyundai Corp. general manager Kim Jong Won is busy studying business plans--but not ones for his own company. Instead, he's poring over those of fledgling Internet startups. Hyundai, you see, may dominate Korean industry, but it's a laggard in the online world. As a result, the share prices of most of its old-line manufacturing companies have fallen 30% this year. Incredibly, this has left the founder of South Korea's largest conglomerate and its best-known business tycoon, Chung Ju Yung, poorer--in tradeable share terms--than several young entrepreneurs whose Internet and technology companies have recently gone public. So Hyundai is quickly scrambling to find ways to get in on the action. Says Kim: "We've decided to invest in startups."
So have Korea's other conglomerates, or chaebol. Since late last year, the top four--Hyundai, Samsung, and the LG and SK groups--have earmarked a combined $1.2 billion to buy stakes in high-tech startups. Ironically, the giants may be getting ready to pour on the money just when Internet stocks worldwide are hitting a rough patch: Fears of a Net bubble drove Korea's tech-heavy Kosdaq index down 5% on Mar. 20. And with so much me-too money chasing Internet ideas, many deals likely will end up yielding few returns.
But even with the recent market choppiness, tech stocks have far outstripped the blue chips in recent months (chart). So the chaebol figure they have little choice. "You simply can't survive without adapting to the fast-changing Internet era, and one solution is linking up with startups," says Moon Young Woo, head of Golden Gate, Samsung Corp.'s $35 million venture-capital fund.
NIMBLE. Fortunately for the chaebol, there are lots of startups to choose from. Entrepreneurial vigor is exploding in Korea, at a rate of about 10 startups a day. According to Seoul's tally, the country has more than 5,500, most of them created in the past year. The government hopes the number will rise to 40,000 by 2005. That means small high-tech companies could account for 18% of the nation's economy and employ 1.8 million people within five years, up from 4.8% of the economy and 180,000 jobs now. Such a dramatic change will reshape the corporate landscape in Korea, forcing old-line companies to be more nimble, more streamlined, and more competitive.
If the chaebol pick winners, odds are they could emerge even stronger in Korea's economy. Yet the great conglomerates were built largely under the strong hand of family control. They aren't used to buying small pieces of companies in which they have little or no say. And with so much capital floating around, the best of the Net companies don't have to depend on the chaebol for funds. If the chaebol want to meddle in management, the good startups can go elsewhere--to some 110 new Korean firms vying to allocate billions in capital. "Liquidity is ample in the market, and startups with viable business plans won't let greedy chaebol lay their hands on their companies," says Phil Kang, technology analyst at ABN Amro.
But while startups may spurn chaebol management help, they stand to benefit from links to their global marketing networks and financial expertise. "The chaebol help us set up overseas branches and introduce us to their extensive contacts," says Lee Kyo Yong, chief executive of Internet content provider Nworks Inc., which specializes in animation. Nworks sold a 10% share to Samsung's venture-cap fund in November, giving the startup a link to Samsung's worldwide network of offices.
If Netrepreneurs get a payoff from linking with the chaebol, the chaebol can also reap rewards by gaining a high-tech gloss. Take SK Group. It's the smallest of the nation's top four chaebol in terms of assets and overall revenues. But it has leapfrogged LG and Hyundai to become Korea's second-largest chaebol in terms of market cap, primarily because of flagship company SK Telecom, which runs a popular mobile-phone service. It has gotten nearly half of the nation's 25 million mobile-phone users to link to the Web using SK mobile communications technology, and its stock is up 224% in the past six months, even with the recent fall-off in tech stocks.
LATECOMER. The other chaebol want the same big stock gains. So Samsung Electronics, trading arm Samsung Corp., and Samsung Venture Investment have allocated a total of $520 million to invest in technology and Net companies. They hold stakes of up to 29.9% in more than 80 startups, including 3D games company Oz Intermedia, Internet telephony provider Serome Technology, multimedia chat service Omylove.com, and Nworks.
The latecomer to the Net game is Hyundai. The car, ship, and heavy-machinery maker has seen the market capitalization of its listed companies fall behind those for Samsung, SK, and LG--even though it is larger than all three in terms of assets. After the market cap of its flagship, Hyundai Motor, briefly dipped below that of tiny Serome Technology in mid-March, Hyundai announced it would spend $482 million to acquire stakes in startups over the next two years. "One reason Hyundai Group shares are excessively undervalued is that we have not kept up with the evolution of the Internet," admits Hyundai Chairman Chung Mong Hun, a son of the company's founder.
In part, such alliances have been motivated by an exodus from the chaebol of engineers and managers trying to strike it rich. At Samsung's own Internet company, SDS, 1,200 employees-- one-fifth of its workforce--have jumped ship to various new companies. So Samsung Electronics has started letting employees set up their own ventures on company time. "This helps stop the brain drain," says Samsung Electronics spokesman James Chung. In one case, Samsung kept employees close to home by letting them use its worldwide sales network to market a digital recorder they had developed on their own.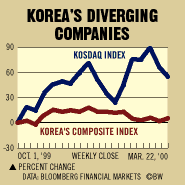 These entrepreneurs and their chaebol backers may not score astronomical stock gains if the softness in the Kosdaq persists. But market gains or no, the Net will keep making its presence felt, even in the sectors the chaebol dominate. LG Home Shopping Inc., a retail cable-TV channel now hooked to the Net, last year posted $280 million in revenue, up 42%. It expects sales to double this year. Meanwhile, LG's biggest department store had comparable sales in 1999 from its conventional stores but expects store revenues to grow by only 35% this year. That's nice--but not Net-nice. With one-quarter of all Koreans already logging on regularly, the chaebol have little choice but to join the fray.