Low Tech, High Potential
Robert Barker
Did you nab Qualcomm at 200? Amazon.com at 113? E*Trade at 72? If so, you don't need me to point out that they're now down more than 30%, 40%, and 60%, respectively. So as these and other intergalactic fliers look Earthward, I'm betting you are curious about some stocks a little closer to the ground.
The one I want to tell you about, Chart House Enterprises, operates the 39-year-old chain of restaurants known for seafood, mud pies, $6 artichokes, and choice locations along beaches and ski slopes, in spots such as Monterey and Aspen. Naturally, Chart House comes with caveats. It has nothing to do with the Internet. Or the human genome. No analyst recommends it. Fund managers aren't talking it up on TV. It trades on the New York Stock Exchange, but volume is light. And if all this hasn't turned you off, you also should know that Chart House is controlled by a shrewd guy who goes by a scary sobriquet, The Grave Dancer.
That would be Samuel Zell. The Chicago mogul "made his first fortune by tap dancing on the tombs of real estate projects," says Hilary Rosenberg in her newly revised book, The Vulture Investors (John Wiley & Sons, $29.95). In 1996, Zell danced into a debt-heavy Chart House and soon saved it with nearly $20 million in cash. In return, he became chairman and took a 29% stake. His cost per share: $5.75.
Today, the stock trades near 5. Yet the company is back on course (charts), financially fit, and "firmly in the black," Zell says. Directing the turnaround is Thomas Walters. Zell hired him in 1998 from the Morton's of Chicago group of upscale steakhouses, where he had been president. Walters has closed 17 slow Chart House locations, is nearly done remodeling 39 others, and has overhauled the menu, which he says "hadn't changed in 15 years." After years of dwindling results, sales per location first turned upward in last year's second quarter, growing 3% from 1998. In the next quarter, they grew 4%; in the one after that, nearly 5%. Walters expects same-store sales this year to keep up that pace, and there will be fresh revenue from a couple of new Chart House restaurants.
BIG JUMP. For faster sales growth and higher profitability, Walters is building a second chain, Angelo and Maxie's Steakhouse. Last year, its Manhattan prototype saw more than $9 million in sales and a gross profit margin of 24%--seven percentage points higher than the average Chart House in 1999. A second Angelo and Maxie's is due to open this year in Manhattan, plus at least four more in other cities, including Atlanta and Washington. The company expects the ones outside Manhattan to gross at least $4 million each to start, while the typical Chart House collects just under $3 million.
Adding it all up, Walters expects total revenues to top $135 million this year and to climb 30%, to more than $175 million, in 2001. Because of expanding margins, profit comparisons could wind up looking even better. From a 1999 pretax profit of 5 cents a share (not counting write-offs and a one-time gain), I figure Chart House could easily see pretax income of about 15 cents a share this year.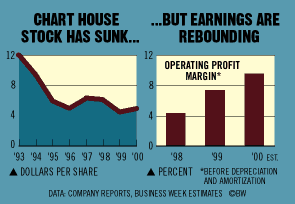 Will growth in sales and profits send Chart House shares beyond the Milky Way? Doubtful. We're talking food, not photons, after all. Yet they also aren't likely to sink 30%, 40%, 60%. At 5, the shares sell below book value. And on recent dips, there has been a ready buyer. In January, Zell added 110,300 shares at an average cost of $4.64. In February, he bought 213,800 more at $5.93. The new purchases brought his Chart House stake to nearly 32%.
When might Zell unload? He has waited through three rebuilding years, so selling now, with a payoff in sight, would surprise me. What doesn't surprise me is his view that the company should enjoy a market value much higher than its current $58 million. "That's obviously the goal," he says. And that's what I call a stock on the ground floor, ready to rise.
Questions? Comments? Send an e-mail to barkerportfolio@businessweek.com or fax (321) 728-1711
Before it's here, it's on the Bloomberg Terminal.
LEARN MORE