Helping The Disabled Navigate The Net
Technology that improves accessibility is making the Web more welcoming
By
It was last winter in Minnesota--bone-chilling cold and snow-ridden--when Jon A. Pierson wanted to buy his fiancee a present for Valentine's Day. Ordinarily, Pierson, who is blind, would have recruited someone to help him battle the cold and navigate the shopping aisles. But that day, he logged on to the Net and bought a gift by himself. No assistance. No shivering. This e-commerce stuff, Pierson says, "really levels the playing field."
Millions of people with disabilities are heading for the Net. And many of them are spending big bucks when they get there. But their numbers still lag the overall population. About 29% of America's disabled use the Web, compared with 54% of all Americans who are online, according to researcher Harris Interactive.
Why the gap? The Internet today is like yesterday's street curbs without ramps. Many sites fail to include text that can be converted into audio or links that can be launched by voice command rather than a mouse click. Cary L. Fields, president of We Media Inc., a portal for people with disabilities, estimates that 98% of Web sites are not fully accessible.
Slowly, though, the barriers are falling. Technology that lets the blind read computer text and software that reduces keystrokes for the physically impaired is making the Web more welcoming. For example, Alan A. Reich, president of the National Organization on Disability and a quadriplegic, is a budding e-shopper. He bought voice-dictating software for $39 and can now surf the Net by speaking commands such as "Go to Amazon.com" or "Send e-mail to Mom." Says Reich: "It's fabulous."
At the same time, Net merchants are slowly awakening to the economic opportunity of building Web sites that are accessible to the disabled. People with disabilities spend $175 billion a year. "You have a population that is more likely to buy off the Net than the sighted or able-bodied population might be," says James C. Halliday, CEO of HumanWare Inc., which sells technology aids for people with impaired vision. "If it's easy, they will buy more."
To better understand the experience of a blind person trying to navigate the Web, I prevented my browser from loading images. Retailers such as Sears, Roebuck & Co. and CDNow Inc. came up with blank boxes--and no text--where the images usually appear, making them inaudible to the blind. "So many of the e-commerce sites don't follow some very basic, simple principles," fumes Marti M. McCuller, CEO of Agassa Net Technologies Inc., which advises merchants on accessibility.
A suggestion: Makers of Web-development software should include tools for building sites accessible to the disabled. Today, many businesses fall short because they rely on software such as Microsoft's Front Page and America Online's Netscape Composer--which don't automatically label images with text or insert the necessary coding that helps visually impaired people navigate pages. "Most authoring tools don't do anything to advance accessibility," says Janina Sajka, director of technology research at the American Foundation for the Blind.
You also need to make sure your efforts really serve your audience. Bell Atlantic Corp. created a page for disabled customers, but few used it because getting there required clicking through many other pages. Companies that get it right, though, can see a big payoff. A new Bell Atlantic page--with its own address, AccessAbility.com--has seen more traffic. And We Media's site, which launched in December, already has drawn 1 million visitors. Demand for shopping has been so high that We Media will open a 100-store e-mall later this spring.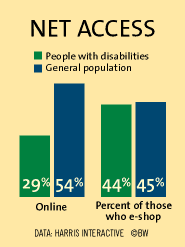 Even merchants on budgets too skimpy for major Web site overhauls can make changes that will benefit the disabled--and boost business. Do-it-yourself Webmasters can visit the Center for Applied Technology (www.cast.org), where an online accessibility detective called Bobby evaluates sites on the spot. Another option is an IBM site where there is an accessibility checklist (www.austin.ibm.com/sns/accessweb). If you make your site more handy, Pierson and other disabled people will thank you for the changes. They might even reward you with a purchase--whatever the weather.