Can Borders Turn The Page?
Despite record profits, investors discount the chain's Net worth
Joann Muller
Imagine the frustration at Borders Group Inc. Since the Ann Arbor (Mich.)-based book chain's stock began to tumble in 1998, management has worked hard to shore up operations. It added 46 Borders superstores, for a total of 295. It also fine-tuned its inventory control systems and launched a Web site. The result: a record performance in 1999. Borders store sales grew 20% and net profits jumped 40%.
But despite the improvements, investors are still punishing Borders stock. The problem: Compared with other booksellers on the Web, Borders is in the slow lane. Last year its share of the $1.6 billion market for online book sales was a miniscule 1% while barnesanoble.com captured 15% and Amazon.com 80%, according to Gomez Advisors Inc., a Lincoln (Mass.)-based Internet research firm.
It's not that Borders misses the point about the Internet Age. "We believe in the Internet wholeheartedly," says Vice-Chairman Bruce A. Quinnell. "Our view on how to use the Internet, however, is different" from industry leaders. Rather than build a separate dot-com business that saps profits, Borders is taking a more modest approach. That's because Borders believes the real growth in bookselling is still through stores. The $1.6 billion in online book sales is a tiny sliver of the $90 billion book market worldwide. Online book sales are expected to grow to about $4.9 billion by 2003.
Convinced that the opportunities are better in the bricks-and-mortar world, Borders has pumped more money into its flagship chain. It has positioned its Web site as a way to enhance the retail experience and build brand loyalty by offering access to borders.com within its superstores. Borders' research shows 80% of its customers are already buying online, so management figures it's wasteful to spend lots of money promoting a separate Web business.
STOCK OPTION BLUES. But that approach is not winning many fans for Borders on Wall Street. In less than two years, its stock is off nearly 60%. Over the same period, Amazon stock rose from $7 to a high of $106 last December, and is now trading in the mid-$60 range. Analysts say that the prevailing view among investors is that Borders is missing out on the Internet bonanza.
Borders' investors aren't the only ones taking it on the chin. In 1997 and 1998, the company's top five executives took 100% of their salary and bonus in stock options instead of cash. "Management has felt that pain," says Quinnell, who has opted to take cash this year.
A frustrated Borders board recently hired Merrill Lynch & Co. to help explore various ways to boost the share price. Among the alternatives: a merger, leveraged buyout, or a stock buyback. The company could also borrow a page from Barnes & Noble Inc., its chief bricks-and-mortar rival, by spinning off its fledgling Web operations. But that didn't help Barnes & Noble, whose shares have slid more than 55% since 1998. Shares of its offspring, barnesandnoble.com, have fallen by more than 60% since its May, 1999 initial public offering.
BUILDING LOYALTY. As Borders' board weighs its options, executives plan to add more superstores, noting that they see at least five more years of growth in the U.S. before the market is saturated. The chain also plans to expand overseas, where it now owns nine superstores. With $94 million in net income and $3 billion in sales, Borders Chief Executive Gregory P. Josefowicz, 47, contends that Internet booksellers haven't squelched Borders' growth. "We've met that competitive force," says Josefowicz, who joined Borders in November from Jewel-Osco, a food-and-drug chain.
Josefowicz says Borders' e-strategy is to build customer loyalty by placing upgraded versions of its Web-enabled kiosks, called Title Sleuth, in each of its stores. The kiosks help customers locate books in the store, place special orders, and learn about store events.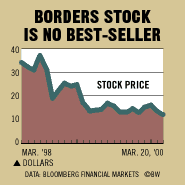 That's a good strategy, e-commerce analysts say, but some worry that the company is missing a golden opportunity to win new customers by not spending more to market its Web site. "There's a whole rush of newbies coming online who haven't made a brand choice yet," says Meredith Medland, an analyst with Jupiter Communications Inc., a New York City-based Internet research firm. With its vast network of superstores, she says, "Borders is in a great position" to take part in that Internet "land grab."
Still, some investors like the company's go-slow approach to the Internet. "At some point, reality will come back to the whole bookselling business," says David N. Dreman, whose firm, Dreman Value Management, is Borders' largest shareholder with 10.3 million shares. Until then, however, the question remains: will the Borders' story have a happy ending for shareholders?