Argentina: Is That A Recovery On The Horizon?
by
Better-than-expected economic growth in the fourth quarter suggests that Argentina has pulled out of its yearlong recession.
In 1999's last quarter, real gross domestic product edged up 0.1% from a year earlier (chart). That may not seem like much, but economists had expected a drop of as much as 1% in output. Manufacturing and agriculture led the small gain, with most of the output heading overseas or into public works projects. Exports jumped 4.7% from a year ago, and government outlays were up 1.9%. Private consumption fell 0.5%.
Because Argentina was in recession for most of the year, its real GDP fell 3% for all of 1999. The downturn was triggered by the global financial chaos of late 1998 plus falling prices for Argentina's major agricultural exports and the January, 1999, currency devaluation in neighboring Brazil. Not surprisingly, weak demand triggered widespread price cuts and a rise in unemployment. Consumer prices fell 1.9% in 1999, compared with a rise of 0.8% in 1998. The jobless rate increased to 12.8% in the fourth quarter of 1999, up from 11.3% at the end of 1998.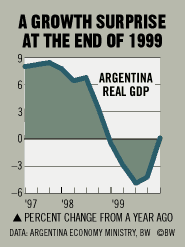 The new government of President Fernando de la Rua expects the economy to grow 3.5% in 2000. Private economists are looking for more subdued growth between 2% and 3%. But the early 2000 numbers look promising. Argentina posted a foreign trade surplus in January compared with a deficit a year earlier. And combined January and February industrial output was up 2.7% vs. the first two months of 1999.
Tight fiscal policy, however, threatens to hold down economic growth. De la Rua, who took office in December, had to raise taxes to reduce the government budget deficit and to cut foreign borrowing. The tax measures were taken to meet conditions for a $7.2 billion line of credit with the International Monetary Fund. The government has pledged to maintain fiscal austerity, but higher taxes will curb any momentum in the consumer sector, which accounts for more than two-thirds of Argentina's economy.
Before it's here, it's on the Bloomberg Terminal.
LEARN MORE