A Crackdown On Rattletrap Taxis...Has Drivers Up In Arms
Kathy Chenault
George Maphalala matter-of-factly ticks off the perils of an unregulated taxi industry. The 48-year-old entrepreneur once owned five 16-seat minibuses, the vans that poor South Africans rely on for commuting. Four were stolen. Rivals in a local syndicate ambushed Maphalala six years ago in Soweto, shredding his car with AK-47 rounds. One of his drivers was shot for invading another's turf. Vehicles are sometimes forced off the road when a competitor careens across lanes to reach waiting commuters. "At times it's hard to cope with the pressures," Maphalala says with a shrug.
But the government refuses to shrug off the catastrophes. "Aging minibuses, which were designed as family vehicles, cannot be allowed to roam our roads, condemning paying passengers to risk their lives by traveling in mobile coffins," said President Thabo Mbeki in his State of the Nation speech on Feb. 4.
In its most controversial business revamp since taking power in 1994, the African National Congress government promises to bring the taxis under control. The aim is to junk dangerous vehicles, regulate drivers, and improve service to more than 2 million commuters. Safety concerns aside, the restructuring offers huge incentives: snaring an estimated $467 million lost annually to tax cheating, converting to more efficient diesel vehicles assembled in South Africa, and reducing reliance on imported fuel. "This is a mafia-style industry that has been on the fringes of society for too long," says Transport Dept. project manager Lawrence Venkile. "The new plan will be an improvement for everyone."
Drivers, passengers, and business leaders aren't so sure. The $2.3 billion project calls for replacing 126,000 16-seat minibuses with 85,000 18- and 35-seaters by 2006. Job losses loom, a dire prospect with 37% of the population unemployed. Fewer vehicles will mean fewer owners and fewer drivers, even though the government envisions creating 7,000 manufacturing jobs. And details haven't been worked out to determine who can buy the new vehicles from the government. That causes anxiety for people like Isaac Motaung, 56, who finally saved enough money to buy a minibus seven years ago. If he got a chance to buy one of the new vans, he would get a scrapping allowance--about 30% of the purchase price for an 18-seater. Could he upgrade? "I don't think so," he scoffs. "It took all I had to get this. Now, they're trying to take me off the road."
BAD NEWS. Passengers envision languishing at the curb while drivers refuse to budge until their large vehicles are full. Three-hour waits are already common at off-peak hours. "How much time must I waste? I'll wait forever for those bigger taxis," laments Nozipho Lunga, 35, as she boards a minibus in Soweto. The South African Chamber of Business has more bad news for commuters: likely fare increases because of more expensive equipment. A study predicts the cost of the smaller van will rise from $18,660 to $31,100. Warning of economic losses if the workforce's most frequently used transportation network is disrupted, chamber analyst Peggy Drodskie says of the plan: "We don't believe it is going to be as successful as government would like it to be."
But officials say they won't yield--and six years ahead of the deadline for banning the current fleet of private minibuses, battle lines are drawn. On Feb. 17, 600 people, some armed with guns and whips, gathered in Johannesburg before embarking on a 150-vehicle "go-slow" protest for 45 kilometers to the capital, Pretoria, snarling freeway traffic. The National Taxi Drivers' Assn. vows "to make the country ungovernable" with more protests.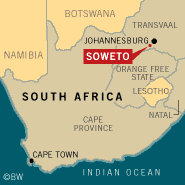 There could be political fallout, too. "If the ANC goes through with this, we can't vote for them again," says 38-year-old Soweto taxi driver Sam Nelufule as others nod assent. But officials say state control will force owners to follow labor laws now widely flouted in the industry, which brings in $1.9 billion annually. Most drivers work from 4 a.m. until 7 p.m., sometimes seven days a week. The drivers answer that any job, regardless of the conditions, is better than none. "This is not a great life," says driver Petros Miya, 26, who earns about $25 a week. "But we don't have a choice. We are afraid to starve." Despite the government's noble intentions, relieving those fears won't be easy.
Before it's here, it's on the Bloomberg Terminal.
LEARN MORE