Where Have All The Accountants Gone?
To the Street, to the Valley--anywhere to flee all those regs
Nanette Byrnes
In 1996, armed with a degree from Virginia Tech, Matt Curtin landed a job as an auditor for Arthur Andersen. It's the sort of coveted post at a Big Five firm that, in earlier days, accounting grads would have killed for. But times have changed. Three weeks ago, Curtin, 26, jumped ship for a technology company, Xybernaut Corp., in Fairfax, Va.
At Xybernaut, Curtin gets stock options and has the freedom to invest his pocket change in any stock he likes. Neither was true at Andersen, where he would have had to wait 15-odd years to make partner and get a share of the firm's profits. All that weighed in Curtin's decision. Simply put, he wants to have "the chance to make a killing on the equity market."
EXTRA SCHOOLING. He's hardly alone. The Big Five are bleeding talent as never before to large corporations and startups alike. And it's not just junior accountants. Ten years ago, it was almost unheard of for a partner in the Big Five to jump ship. Today, it's barely even news. "Now, they're in a dog fight," says Wayne Mello, a headhunter at Robert Half International Inc. Even more ominous, the flow of young people entering the field has slowed to a trickle. Countrywide, those taking the exam for certified public accountant for the first time fell 40% from 1992 to 1998.
Competition from Wall Street and Silicon Valley, where the rewards can be much richer, plays a big part. Big Five accountants have just the expertise those companies need: They know financial accounting, they're technologically savvy, and they have broad experience in a wide variety of businesses.
But also to blame, many are beginning to argue, are regulations that govern auditors' ability to invest in stocks. As the industry consolidated over
the last decade, these longstanding rules have become more onerous. Meanwhile, new rules are emerging that require an extra year of college for aspiring accountants. Intended to improve audit quality, they may be instead driving accountants out of the field. "The rules we have to date do not help us attract and retain people," says Stephen G. Butler, chairman of KPMG. "They're very complex, difficult to keep abreast of, and most are extremely outdated." To fight back, auditing firms have been forced to come up with creative programs to attract and keep talent.
For the Big Five, the problem starts on campus, where the supply of accounting graduates has dwindled precipitously over the last decade. One big reason is the requirement now in place in many states that students complete 150 hours of education before they can sit for the CPA exam. The rules, which essentially increase accounting to a five-year major, were supposed to prepare graduates for the intricacies of globalization and increasingly creative financing.
Instead, they have depleted the ranks of people going into auditing. At Georgetown University, for example, the number of accounting majors dropped in half from 1996 to 1999. That trend is likely to continue. Eighteen more states will up their education requirements between now and 2009.
To stem the brain drain, Big Five firms are increasing salaries by as much as 10% per year in hot markets and offering perks like 20-day vacation blocks. They're also taking a new approach to selling the job. Arthur Andersen hits campus early, inviting promising sophomores and juniors to conferences held at its training center in St. Charles, Ill. There, Andersen puts to work reams of analyses it has done on what new graduates want. The result, says Matt Gonring, managing partner in charge of marketing: a sales pitch that focuses on work/life balance, mobility, and the chance to work overseas.
Certain firms are even compensating for the 150-hour requirement with their own programs. Last year, Ernst & Young launched Your Master Plan, which offers a masters in accountancy from Notre Dame or the University of Virginia on the company's dime. For people who didn't major in accounting as undergrads, a special immersion class is available. "In this kind of a market," says Lisa K. Pals, E&Y's national director of recruiting, "you've got to get creative."
SEC PROBE. Rattled by the increasing attrition now reaching all the way up to the partner levels, the Big Five are rethinking their corporate culture. Famed for a grueling pace that often means visiting four cities in a week, many of the big firms now offer flexible work arrangements. Three years ago, E&Y created a "department of retention" whose chief reports to the firm's chairman. E&Y estimates its retention efforts have saved $9 million in training and other expenses.
However, it and its rivals are having a much harder time addressing the biggest retention problem they face today: regulatory restrictions on stock ownership. Nothing made that clearer than the recent Securities & Exchange Commission investigation into regulatory compliance at PricewaterhouseCoopers. Industry leaders believe that some of the 8,064 violations that the SEC uncovered are minor ones--and that the crackdown will scare away even more newcomers to the profession.
IN-LAWS, TOO. To be sure, there was a serious compliance failure at PWC that included blatant conflicts of interest. Among its transgressions were violations of the most basic rule of independence--that a partner or other employee should not hold stock in a company he or she audits.
But some of the SEC's complaints bring to light ways in which these rules, written decades ago, just don't fit today's economy. For example, stockholding restrictions apply not just to a direct audit client but to any client of the firm anywhere in the world and to the stock of any company with a joint venture or investment in that client. That means a partner in Los Angeles may not hold stock in a client of the Boston office. Robert K. Elliott, chairman of the American Institute of Certified Public Accountants, estimates that for employees of the Big Five, that rule eliminates approximately 40% of all stocks. And the restrictions apply to spouses, children, and even in-laws if they live nearby.
Of course, that doesn't mean that Big Five partners, who easily make $200,000 to $500,000 per year, are heading for the welfare line. But in a job market where their skills are heavily in demand, such restrictions only enhance the attractiveness of a corporate job, these firms say. "If you improve auditor independence by one unit and strip competency by 10 units, is that a good trade-off for investors?" asks the AICPA's Elliott. "I think it's a very bad trade-off."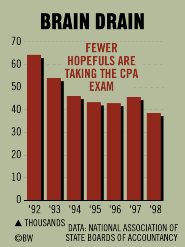 SECOND LOOK. The debate over these rules has prompted the SEC to reexamine the regulations' effectiveness. "We need to recognize that the business world has changed," says SEC Chief Accountant Lynn E. Turner. Turner expects to have new rules ready for an SEC vote in the near future. Pay expert Alan Johnson suggests that the SEC consider the rules common in Corporate America: holding shares a period of three years and giving at least six months' notice before selling.
The firms are moving on this, too. Arthur Andersen is working on a plan to be introduced within months to share the firm's income with nonpartners. And E&Y, KPMG, and PricewaterhouseCoopers are all breaking off their consulting businesses. If these deals go through, as expected, they'll bring a huge windfall to existing partners, stock options for the consultants, and, just maybe, a chance for the Big Five to stem defections to the Xybernauts of the world.
Before it's here, it's on the Bloomberg Terminal.
LEARN MORE