U.S. Consumers: Damn The Rate Hikes, Full Speed Ahead
They still seem unfazed by Fed moves and higher gasoline prices
by
As consumers go, so goes the economy. That's the mantra to keep in mind if you think the Federal Reserve's Mar. 21 policy meeting will be the last one you have to worry about this year. Consumer spending accounts for two-thirds of U.S. real gross domestic product, and it has accounted for the lion's share of economic growth during the past two years.
So how do consumers go right now? They go like gangbusters. Retail sales jumped 1.1% in February, with gains in almost all sectors. Vehicle sales alone are on track to set a record for the first quarter, and a March survey of homebuilding activity shows that demand for new housing, although slowing a bit, remains strong. Also, robust buying by households is boosting industrial output as well as making it difficult for businesses to keep sufficient inventories on hand.
The seemingly unstoppable momentum of consumers is why the markets consider another quarter-point hike in the federal funds rate on Mar. 21, to 6%, a done deal. But will that be enough? Households have ignored the Fed's full percentage-point rise in rates since last June, and, so far, the spike in gasoline prices has had no visible effect on sales of other items. The growth of inflation-adjusted retail sales has actually accelerated in each quarter since the Fed began hiking rates (chart).
That said, keep in mind that the Fed will do what is necessary to slow the economy to a pace that keeps the labor markets from tightening further and stops inflationary pressures from taking hold. To do that, consumer-led demand must slow. With no sign of that, the markets are starting to build in another quarter-point hike at the Fed's May 16 meeting, and a growing number of economists believe that the Fed will not be able to stop there.
IF ANYTHING, the recent retail sales report was strong evidence that the economy was almost as robust in the first quarter of 2000 as it was in the second half of 1999, when real GDP growth averaged a torrid 6.3% annual pace. The strong February sales gain was slightly better than expected, and excluding cars, retail buying surged 1%. Increases were posted in all categories except bars and restaurants and building materials.
Car dealerships were especially busy last month, despite rising worries over gasoline prices. Dealer receipts were up 1.4%. Unit sales of cars and light trucks hit a record 19 million annual rate in February after an equally impressive 17.7 million sales rate in January, and sales of gas-guzzling SUVs are stronger than ever.
Not surprisingly, the recent spike in gasoline prices gave a noticeable boost to sales at the pump. Gas station receipts climbed 4.3% last month after dipping 0.6% in January. And higher prices will likely lift March receipts as well. The Energy Dept. reports that retail prices for regular gas hit a record $1.527 per gallon in mid-March, up more than 50 cents from a year ago. Since just the beginning of the year, gas prices have shot up by 25 cents (chart).
Gas prices are expected to hit $2 a gallon by the summer, but the increase has already crimped household buying power. A USA Today/CNN/Gallup poll found that 41% of drivers say that higher pump prices are an "economic hardship," with the burden falling more heavily on lower-income households. Moreover, expect gas prices to have at least as big an effect on consumer inflation in March as they did in February.
Rising oil prices also are showing up in import prices, which jumped a steep 1.9% in February. But even excluding oil, prices of imported goods still rose 0.3% in the month, and compared to a year ago nonoil prices have stopped falling. This means they no longer will provide an offset to domestic price increases the way they had in previous years when import prices were falling sharply.
THE IMPACT OF HIGHER GAS PRICES on overall consumer spending will be significant but not huge, given the pace at which consumers are already spending. BUSINESS WEEK calculates that a 33% rise in gas prices for all of 2000 compared with the average for 1999 would mean that households will have about $50 billion less to spend on other goods and services. After adjusting for inflation, that's about 0.8% of real outlays.
But given the retail sales data, first-quarter real consumer spending is likely growing at a red-hot annual rate of nearly 6%. If the Fed wants domestic demand to ease up, it will take more than sticker shock at the pump to slow household buying to a more Fed-friendly pace, especially since buying already enjoys such a strong tailwind from the wealth effect.
UNRELENTING DOMESTIC DEMAND, supplemented by a solid recovery in exports are driving the pickup in the U.S. industrial sector that began last year, and that speedup will continue, especially as businesses scramble to keep inventories on hand to meet demand.
Business inventories held by manufacturers, wholesalers, and retailers rose 0.5% in January, but once again that was smaller than the 0.8% advance in business sales. During the past year stockpiles have grown 5%, but sales have increased twice as fast. The ratio of inventories to sales in January fell to a record 1.31.
Industrial production continues to accelerate in the first quarter, led by manufacturing output. Overall production rose 0.3% in February, as did output in manufacturing, but those modest gains followed 1% jumps in January. Production for the entire quarter is on a track to grow at an annual rate of greater than 7%, the fastest quarterly pace in nearly four years.
Moreover, although output of computer equipment was up 25.7% from a year ago, the production speedup is broad-based (chart). A 3% drop in motor-vehicle production held back overall activity. But that followed a 4.4% jump in auto assemblies in January. And given the record-setting pace of car sales, auto makers are sure to be busier in coming months.
Increased output is using up more of industry's production capacity. The operating rate for all industry in February held steady at 81.7%, but that's up from 80.4% a year ago. That rate remains below the level that would signal growing strains on capacity, but operating rates are sure to keep rising along with output.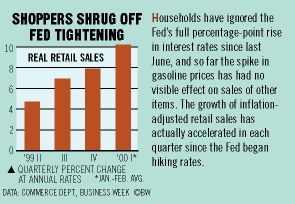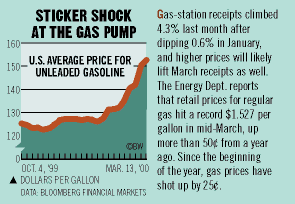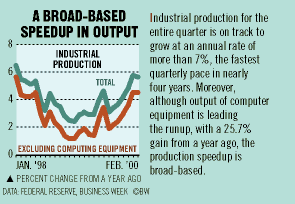 The Fed will be watching operating rates for any signs of potential price pressures, and they will look carefully for indications that higher energy costs are filtering into the prices of other goods.
However, policymakers know that, ultimately, today's high-rolling consumers must be calmed down if price pressures are to remain tame. In coming months, the face-off between the Fed and consumers may become a case of an immovable object meeting an irresistible force. Even if consumers have won the first quarter, the Fed is unlikely to be denied its desire for a slower-moving economy.
Before it's here, it's on the Bloomberg Terminal.
LEARN MORE