Stocks: The Broker Is Wild
Even a shaky market can't scare investors away from the big Wall Street firms' stock
Geoffrey Smith
The stock market may be having a bad case of the jitters, but you'd never know it from the way brokerage stocks are performing. While the Standard & Poor's 500-stock index has dropped 5% this year, four of Wall Street's biggest names--Merrill Lynch, Goldman Sachs, Morgan Stanley Dean Witter, and Charles Schwab--have scored double-digit gains.
The biggest gains have come in recent weeks. Investors spent the early part of the year fretting that the industry could not possibly top its 1999 performance. All kinds of records were shattered on Wall Street last year, pushing industry profits up 51%. But with trading volumes continuing to soar this year, and the initial public offering and mergers and acquisitions markets booming, brokers are suddenly back in favor. "The environment for Wall Street firms is as good as it could be," says David S. Berry, brokerage analyst at Keefe, Bruyette & Woods Inc.
BRISK WIND. Takeover talk is adding fuel to the brokerage stock buzz. Following the Mar. 9 merger of Germany's Deutsche Bank and Dresdner Bank, speculation emerged that the new banking giant may try to buy a major U.S. investment bank. A Dresdner director told BUSINESS WEEK "it's obvious that they'll do that." Deutsche Bank is eyeing Wall Street's three top brokers--Merrill, Goldman, and Morgan Stanley--as well as PaineWebber, the Dresdner source says. Merrill is the top choice, though Deutsche worries that Merrill's London unit may not be a good fit with Deutsche's London unit. Deutsche views PaineWebber as a better fit but is worried it may not supply the critical mass it seeks in the U.S., the source says.
Even without a takeover premium, brokerage stocks have a brisk wind spurring them ahead. Every major segment of their business is booming. The value of IPO deals through Mar. 14 is more than triple last year's record dollar volume in the same period, with 99 IPOs raising $14.9 billion, according to Securities Data Corp. M&A dollar volume is running 64% ahead of last year's record pace, with deals worth $926 billion announced worldwide. And trading volume on the three major exchanges is up 60% from last year's pace, according to National Association of Securities Dealers officials.
Merrill Lynch & Co. has been the biggest beneficiary of these trends. Most of last year its stock was mired in a zigzag funk. The firm's bombshell announcement last April that it would battle its online rivals and slash commissions to $29.95 a trade led investors to fear that Merrill's profits were headed down a slippery slope. But in January, Merrill reported a 71% increase in 1999 profits and a $36 billion hike in assets under management in its fourth quarter, ahead of its gains in the prior three quarters combined. "The early returns suggest Merrill is doing what Schwab did for years--cutting customer costs and gaining customer assets," says Guy Moszkowski of Salomon Smith Barney.
Schwab, meanwhile, is showing no signs of slowing down. The company gained 150,700 new accounts in February and added $13.9 billion in assets--its second-highest level on record. Total assets are 50% higher than last year, at $766 billion. And Chase H&Q analyst Greg Smith says Schwab's first-quarter trading volume is on a pace to advance 48% over fourth-quarter 1999. "The opportunity for a blowout first quarter remains intact," Smith says.
Schwab's stock has climbed to a staggering valuation of 69 times estimated 2000 earnings. Even so, Smith says he expects analysts will eventually raise Schwab's 2000 earnings estimates, boosting Schwab still higher. Merrill, Goldman, and Morgan Stanley trade at a more reasonable 18 times estimated 2000 earnings.
PRECARIOUS. Many smaller brokerages, especially e-brokers, are not getting the same lift as the Wall Street giants, says James K. Schmidt, manager of the two John Hancock financial-services funds. The reason: The top brokers are capturing the bulk of the IPO and M&A business. And e-brokers such as E*Trade Group Inc. and Ameritrade Holding Corp. are seeing big increases in trading volume, but their shares are lagging because of persistent concerns that high marketing costs are eating into profits.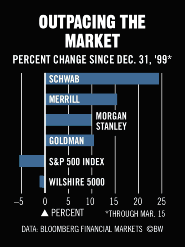 Analysts only recently caught on to the brightening outlook for big brokers. Forecasts earlier this year called for flat to slightly declining profits for the Street's top brokers this year, but estimates have been steadily rising. In the past three weeks, numerous analysts have raised year 2000 earnings estimates for most of Wall Street's top firms. "I wouldn't be surprised to see a continual progression of raised forecasts," says Moszkowski.
But Hancock's Schmidt warns that the runup in brokerage stocks has put them on a precarious perch. "Brokerage stocks are quite market-sensitive and come with considerable risks," he says. With Federal Reserve Chairman Alan Greenspan raising interest rates in an effort to lower stock prices, any success he has in cutting trading volumes, IPOs, or M&A activity could quickly take down brokerage stocks, he says.
Barring any major market slide, however, the big brokers should continue to produce solid returns for investors.
Before it's here, it's on the Bloomberg Terminal.
LEARN MORE