South Korea: A Soft Landing In Seoul?
by
South Korea's blistering pace of recovery continues in early 2000, but fears of higher inflation and rates may be premature.
The economy grew 10.2% in 1999, and growth in 2000 may top the government's 7.2% forecast. By the second half, though, the recovery's pace is expected to slow from red-hot to merely healthy. The yearly pace of industrial production, while still a rapid 28.1% in January, has peaked (chart). Exports, half of gross domestic product, are strong, but imports are picking up, eroding the trade surplus. And the index of leading indicators paused in January after last year's steady rise.
Despite rapid growth, inflation remains tame, even amid higher prices for imported oil, on which Korea is totally dependent. February consumer prices rose 1.4% from a year ago, down from 1.6% in January, and the government plans to offset the oil-price hikes by cutting taxes on domestic oil products. The Korean won's 10% rise vs. the dollar during the past year will help to limit inflation pressures.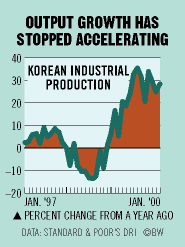 Wage growth, too, is unlikely to pick up sharply this year. Although trend-setting wage negotiations are due just ahead of the mid-April general elections, labor markets remain slack. The jobless rate fell to a two-year low of 4.6% in January, but that's nearly twice the 2.5% level averaged before the Asian crisis. Large companies that are restructuring are reluctant to add new permanent positions. As of January, temporary and part-time workers now outnumber full-time workers.
The Bank of Korea wants to hold inflation below 3.5% this year, but the quarter-point hike in the call rate on Feb. 10, to 5%, was not a preemptive move to curb future inflation, the BOK said. The bank is shifting policy from accommodative to a more neutral stance consistent with noninflationary growth. But that process will be slow. First, with prices tame and elections looming, no further hikes are expected until May. Also, while the financial crisis at Daewoo Group appears contained, further planned financial reforms could expose other losses.
Before it's here, it's on the Bloomberg Terminal.
LEARN MORE