Ice Fishermen Are On Thin Ice...But It Sure Beats Staying At Home
Kristina Shevory
Four kilometers out on a sheet of ice over Lake Ladoga, Oleg Smirnov, 67, sits hunched over an ice hole, his fur cap pulled low over his eyes. Along with hundreds of other ice fishermen, Smirnov has been sitting on his tackle box minding his ice hole since dawn. This year, they're catching an unprecedented number of pike, perch, smelt, and even the elusive salmon. Europe's largest lake, Lake Ladoga, has quickly become known as the best fishing area around St. Petersburg, attracting ice fishermen in droves despite its reputation as one of the most dangerous places to fish.
And there's the rub--because in a region where winter temperatures usually hover between -10C and -15C, this year they have been 10 degrees higher than normal. A higher mercury means fragile ice, and fragile ice means fishermen floating off on broken floes. The rescues of those fishermen have become so costly that authorities are seriously annoyed--and are pushing harder than usual to get legislatures to crack down.
Lake Ladoga, which covers almost 17,000 square kilometers, and the Gulf of Finland this winter have witnessed 10 major rescue operations and countless minor ones. The largest in Russian history came in February, a two-day mission that resulted in the rescue of 911 fishermen on Lake Ladoga. So far, a total of 1,250 have been plucked from floes this winter, surpassing last winter's total of 1,000 and 1998's total of 600. Although 14 people have drowned this season, the casualties don't seem to bother most fishermen. "There isn't any water that's too cold for me to swim in," says a defiant Smirnov, who has been rescued three times this season but has yet to take a plunge in the frigid waters. The outfit he and his confreres wear--quilted cotton pants, felt boots, and caps with fur earflaps--has remained unchanged for centuries.
What has changed is the weather. Whether it stems from global warming or simply natural variation, the relatively toasty winter has set the ice floes bobbing. "We have this problem with the fishermen every year, but this season has been the busiest, seeing us not only rescue more people than usual but often the same exact ones over and over again," says Andrei Yefremov, Northwest Region head of the federal Emergency Situations Ministry. Although the Ministry issues frequent announcements of danger zones where the ice is likely to break away, fishermen ignore the warnings, lured by the arcane pleasures of the sport and the need to supplement their often meager pensions by selling fish at local markets.
FOOLHARDY. Frustrated in its efforts to keep the anglers off thin ice, the Ministry is attempting, as in previous years, to persuade local assemblies to pass a law fining the fishermen they are called on to rescue. Since keeping a helicopter in the air costs $1,000 an hour, and the operations often last 10 hours, the Ministry sees fines as a way to help finance the rescues--and maybe deter foolhardy fishermen.
The bill has been handily defeated in the past two years by legislators who claim the fishermen are only trying to make a living. And despite the high costs this year, it may suffer that fate again. So the Ministry is also appealing, for the first time, to the federal Duma--where it may not do any better. Laments Evgeny Tarasov, deputy head of a local committee overseeing ice fishing: "With the small number of deputies who are concerned, it won't be passed anytime soon."
Meanwhile, out on the frozen wastes, the anglers are monarchs of all they survey--free from their kids, their wives, and the pressure not to drink, smoke, or swear. Especially after a few shots of vodka or cognac, the ice becomes a kind of male heaven, a place where most women fear to tread.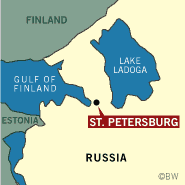 "I do this to get the hell away from my wife," explains Igor Sergeyev, a 30-year veteran of fishing off the gulf. "Sure, it's boring and sometimes pointless, but I've got to get out of the house." His partner, Vladimir Komarov, agrees: "This is the one place she won't follow me. Picking mushrooms in the fall, she can come. Chopping wood or gardening at the dacha, she can come. Even trying to fix my car, she's there offering tea, lunch, nagging about a creaking door or a light bulb that needs changing. But she won't come out here!" That she won't--but lucky for them, the helicopters will.
Before it's here, it's on the Bloomberg Terminal.
LEARN MORE