"I Kept On The Buy Rating, But I Told My Favorite Investors To Sell"
To keep companies happy, analysts are publishing inflated stock ratings
Heather Timmons
It's no secret that stocks of financial-services companies--excluding the big brokers--are in a funk. Many have dropped nearly 50% in the past six months. But most analysts continue to rate them a buy. How are they keeping their jobs? Simple: "I kept on the buy rating" to appease the company, said one credit-card analyst who spoke on condition of anonymity, "but I told my favorite investors to sell" to maintain credibility.
Smaller investors relying on brokerage houses to point out values in the financial-services sector, beware: The experts you're taking advice from may have a two-tiered rating system: one for you and one for the big boys.
Those analysts who agreed to speak on the record deny participation in the practice but confirm that it is widespread. Those who spoke on condition their names be withheld said they do it all the time. "Often there will be something you want to downgrade, and your firm will say it's not a good time," says a financial stock analyst for one East Coast investment bank. A "handful" of his favorite investors, though, will learn how he really feels. He keeps the group small to prevent his negative opinion from getting back to the company he's rating.
DECEIVING? Maintaining a positive rating isn't uncommon when an industry falls out of favor, say veteran analysts. "This is what you see well into a bear market for a sector," says Thomas K. Brown, director of Second Curve Capital, a money-management firm. Brown left Donaldson, Lufkin & Jenrette Inc. in 1998, when he says the investment bank fired him for making negative calls on banks. DLJ says that it does not comment on former employees.
When it comes to analysts, investors would be wise to remember that "you can't always believe what they're writing, but sometimes you can believe what they're saying," says Steven Eisman, a CIBC Oppenheimer bank analyst.
The practice isn't necessarily deceitful, analysts maintain. In some cases, analysts broadcast a one-size-fits-all rating but tailor the advice to specific clients, notes Raphael Soifer, a longtime Brown Brothers Harriman & Co. analyst who left the firm this month to start a consulting business. Soifer, for example, had all brokerage stocks rated as a neutral, to reflect his firm's overall bearish view of the market, but he maintained a separate list of "neutral bullish" stocks for investors that liked the industry. Big brokerage stocks have zoomed this year.
INTEGRITY DOUBTS. The discrepancy between stock performance and analysts' ratings is especially wide in the banking sector, according to a recent report from Credit Suisse First Boston. The firm's bank analyst, Michael L. Mayo, drew criticism from some investors last May when he put sell ratings on major banks. He notes that analyst ratings of bank stocks are near their all-time highs, according to a Credit Suisse analysis.
The contradictions are surfacing at a time when the integrity of equity analysts has drawn the attention of industry regulators. "In many respects, a culture of gamesmanship has taken root in the financial community, making it difficult to tell salesmanship from honest advice," said Securities & Exchange Commission Chairman Arthur Levitt Jr. in a Mar. 6 speech.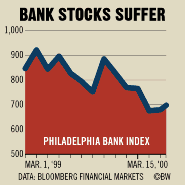 Analysts are one of the least regulated groups in the investment business. But publishing one opinion on a stock and telling some investors another is "definitely" in violation of the industry's code of ethics, says Jonathan J. Stokes, associate general council at the Association for Investment Management & Research, the analyst industry trade group. AIMR recently established a task force to investigate analyst independence, Stokes says. The panel, he notes, is made up of 12 "industry leaders," including several analysts.
If the group wants straightforward recommendations, let's hope they carefully chose the analysts for that panel.
Before it's here, it's on the Bloomberg Terminal.
LEARN MORE