Good Help Is...
A tight labor market just keeps getting tighter
Alison Stein Wellner
Just when you thought the super-tight labor market couldn't get any worse, guess what: It's getting worse. With unemployment at just 4.1%, small businesses are going to greater lengths to attract and retain skilled employees--boosting salaries and benefits, and adding perks. And there are signs that those higher costs are beginning to spark higher prices.
Paul Getman, CEO of Dismal Science Inc., a 55-employee economic analysis outfit in West Chester, Pa., says Dismal Science has hiked starting salaries nearly 10% a year and hands out raises twice a year instead of annually. There's also Starbucks coffee and fresh bagels every morning and monthly outings for rock-climbing and ice skating.
Turnover is way down, from 20% in 1999 to 10% today. But Getman is scrambling for savings wherever he can find them. He has also done the unthinkable and raised prices--only about 3% so far, and only for some clients. But if the labor market remains this tight, Getman says prices will increase and growth will slow. "I don't have any more rabbits to pull out of the hat," he says.
Small companies around the U.S. are in a similar bind, according to the latest survey of the 600,000 members of the National Federation of Independent Business. In January, 21% of companies surveyed said that finding qualified workers is their most serious problem--up 10 percentage points from five years ago.
What's more, a recent NFIB Foundation study found that 63% of small outfits that were hiring either had to keep the position open for more than a month or settle for a less qualified candidate. When the jobs were filled, only 40% of employers were "very satisfied" with their new hires. Employees, by contrast, are feeling pretty good. Fully 91% of workers are at least somewhat satisfied with their current jobs, according to the Harris Poll. But forget about loyalty: Half say it's likely that they'll quit in the next five years.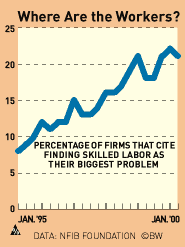 In fact, employee happiness (otherwise known as consumer confidence) is the glue holding the whole thing together, says William Dunkelberg, chief economist of the NFIB. As long as consumer spending continues to fuel the economy, rising compensation should be offset by rising profits. "But once the economy weakens, then those high wages you're paying are going to start to pinch," Dunkelberg warns. So, for employees who want it all, these may turn out to be the good old days.
For more ideas on how to cope with the labor crunch, click Online Extras at frontier.businessweek.com
Before it's here, it's on the Bloomberg Terminal.
LEARN MORE