Elective Surgery
How to trim health-care costs? A "split funding" strategy may be just what the doctor ordered
Joshua Kendall
If your health plan isn't making you queasy, you probably have a strong stomach. For companies with fewer than 50 employees, premiums soared an average of 14% in 1999, according to employee benefits consultant William M. Mercer, and other analysts project a 20% jump this year. That means businesses now paying an average of $3,800 per employee will see increases of $760 a head.
Numbers of this magnitude put small companies in a bind. With unemployment at a 30-year low, cutting back on coverage or passing the higher costs on to employees isn't realistic. But neither is absorbing a big hit to the bottom line. So what's an entrepreneur to do? In the desperate scramble to cut costs, some are switching to the strategy of "split funding."
Think of it as partial self-insurance. You select a plan similar to what you have, only opt for bigger deductibles and higher out-of-pocket maximums. Those adjustments will save your company 15% to 35% on premiums. Next, promise workers that you will pick up the tab whenever it exceeds the old deductibles or out-of-pocket limits. Presto: lower costs for you, and no additional burden for your employees. And you don't have to worry that any single claim will bankrupt you. That's because catastrophic coverage kicks in once the caps are reached.
You're essentially betting that the savings in premiums will exceed additional, out-of-pocket expenses for care. It could be a gamble worth taking. But because the strategy is new, your local broker may not know about it. If not, your best bet is to find a benefits consulting firm that specializes in small companies.
It worked for Kness Mfg. Co., a mousetrap maker with 48 employees, in Albia, Iowa. Last January, the company was hit with a 23% hike in premiums. "We thought we would have to drop coverage altogether," says Milly Eastlick, general manager at Kness. Instead, the company switched to split funding, raising deductibles and out-of-pocket maximums. Employees were responsible for costs up to the old levels; then Kness pitched in. The result: Premiums dropped 26%, from $323,000 to $238,000. Total health-care costs fell by 3%.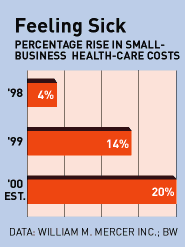 Split funding can clip future increases, too, because premiums for high-deductible plans are rising much more slowly than for other plans--about 60% slower, says Bill Lindsay, a Denver benefits consultant.
On average, only about 25% of employees hit their maximums in any given year. Still, Larry A. Levitt, a policy analyst at the Henry J. Kaiser Family Foundation, warns that "a minority of small firms with an older or sicker workforce could get hurt" by split funding. It isn't for everyone. But for many small outfits, the plan could save employees a few bucks--and their employers a splitting headache.
For more tips on coping with health-care costs, click Online Extras at frontier.businessweek.com
Before it's here, it's on the Bloomberg Terminal.
LEARN MORE